One of my favorite holidays was a stay at Bushman's Kloof, one of the world's best luxury nature retreats. On my last trip to South Africa, we drove over from Cape Town to the Cederberg Mountains, where it is located, for a few days of wellness and safari.
WELLNESS AT THE BEST LUXURY NATURE RETREAT IN AFRICA
For our stay, we'd created a full itinerary of safari drives, yoga lessons, meditation sessions and spa treatments. So we were booked from early morning to midnight with activities most people only dream about.
Bushman's Kloof really is the perfect wellness destination. And the team at Bushman's Kloof topped our holiday with some truly magical dining experiences that I'll remember forever.
WELLNESS RETREAT AT BUSHMAN'S KLOOF
Our wellness retreat involved a lot of yoga, of course. And at Bushman's Kloof, guests can arrange for private yoga lessons in the most amazing locations on the reserve.
So each day at 630 AM, our ranger Martin waited at the gate of the beautiful Cederberg House, with two yoga mats in hand. He would then drive us to some beautiful clearing for our private yoga lessons with Stephanie.
Martin always met us on time with a cheerful countenance. He was always unfazed by the task of executing three or four events everyday as we basked in the good energy of the Cederberg Mountains and eagerly awaited the next surprise.
"Good morning!" He boomed as we trudged out half asleep. "Are you ready for yoga?"
For our private yoga and meditation lessons each morning, Martin always drove us to a perfect spot with shade and a view of the Cederberg mountain range. Here yoga instructor Stephanie guided us through the motions. At my request she even performed a therapy treatment with her Tibetan singing bowls while I marveled at the blue skies.
---
RELATED CONTENT : PICKING HERBS & BOTANICALS FOR GIN IN AFRICA
---
HOW TO ACHIEVE TRANQUILITY
Cool winds blew, trees shuddered with a comforting sound, and chirping birds flew overhead as I advanced towards inner tranquility in 90 minutes. By the end of each session, I was ready to make peace with myself and with anything that breathed.
Then, when my personal reverie was over, we had fresh juices and eggs cooked-to-order in a garden next to a river bed where monkeys played. These are simply semantics, though. In reality, the chefs at Bushman's Kloof are actually willing to create anything guests fancy on a best effort basis. Yes, it's the kind of place that seriously likes to make its guests happy.
THAT INDIVIDUAL STYLE
After breakfast, I had some time to read a book back at Cederberg House before our scheduled massage. Our villa, set amidst spacious gardens within a fenced enclosure, was straight out of a design magazine. Decorated in the classic country style, it was elegant and inviting, with decorative items and artworks chosen by the owner.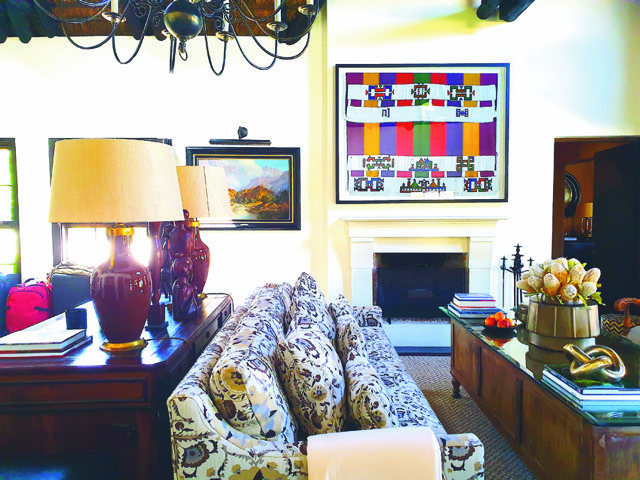 Beatrice Tollman, a self-made travel magnate who reportedly selects Christmas presents for every employee in her vast empire, also reportedly chose many decorative items in our villa. Her taste is literally evident everywhere on the estate as well. For example, guests can try her favorite lemon pie for dessert at lunch.
Because it was so comfortable, Cederberg House was difficult to leave even for a moment. We loved the stacked bar, the sketchbooks and paintboxes in the bedrooms, and the interesting books on every table so that one always caught my eye. I'd picked up a book on South African writers as soon as I entered, and it almost never left my side.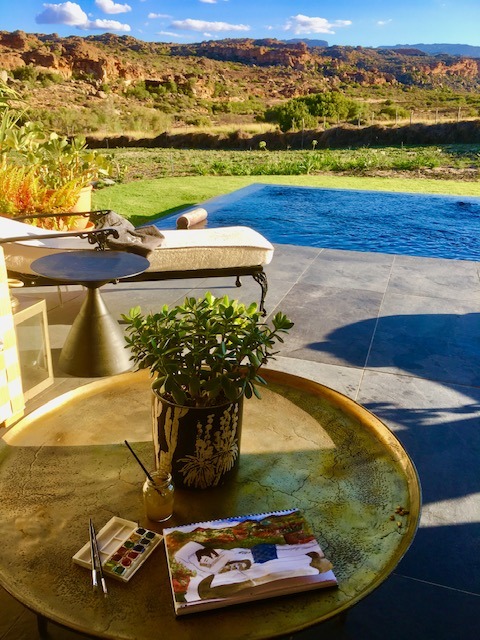 Every afternoon, I did a couple of sketches by the pool too. This was one of my absolute favorite things to do just at sunset. The Cederberg mountains are mesmerising and I tried to capture the colors around me.
---
RELATED CONTENT : THE MAGIC OF ZANZIBAR
---
ABOUT CEDERBERG HOUSE
Bushman's Kloof sleeps only 34 guests and each lodging offers luxurious comfort in the bush. Cederberg House, where we stayed, is built in the traditional Cape Dutch style on the banks of the Boontjies River.
It has two spacious master suites and a large living area with whitewashed walls and a vaulted ceiling. It leads out onto an expansive terrace with a swimming pool and a grand view.
AFRICAN ART IN BUSHMAN'S KLOOF
The house also showcases excellent South African art including works by Esias Bosch, Gabriel de Jongh, and Walter Battiss. We loved stargazing by the private pool every night and listening to music in the living room before dinner.
The villa can accommodate four people. Bookings include meals and activities including the services of a dedicated ranger, nature drives, rock art excursions, spa treatments, mountain hikes and cooking classes, among others.
Read more stories about beautiful nature and wellness retreats in South Africa in Travelife Magazine.