The Ritz Carlton Kyoto is a sleek modern hotel on the banks of the Kamogawa River. It's perfectly placed for sightseeing, business or simple leisure, especially with the river banks of Kyoto just in front. At the same time, the commercial heart of Kyoto and the famous Nishiki Market are just a few minutes' walk away.
The hotel's wood and concrete minimalist structure is also a wonderful backdrop for its excellent and ecelectic collection of art. Guests will experience a feast for the senses as they walk around the hotel. The art works are well curated so that there is a balance of theme and design. Moreover, none of the works stand out by themselves. Instead, they blend so seamlessly and beautifully with their surroundings that they enhance the atmosphere rather than steal the show.
Here are my favorite pieces from the art collection of the Ritz Carlton Kyoto: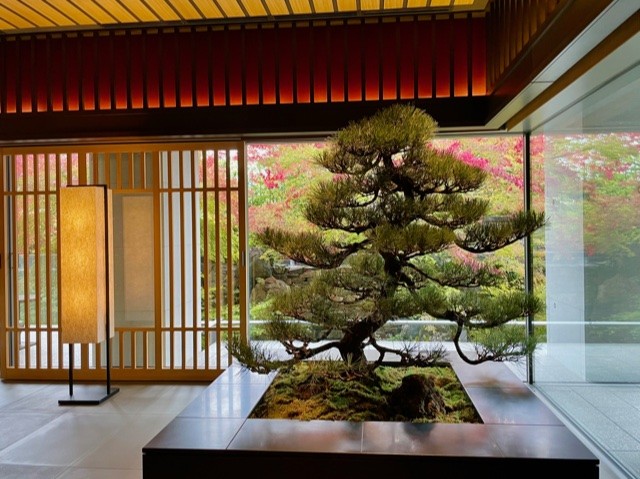 ---
The designers have placed this tile along the walls of the entrance. They also use this same motif, called Shippo, along the doors, bed headboards and carpets in the guest rooms. It's mean to symbolize harmony in the form of seven treasures and the circle shape.
---
This glass sculpture actually encases a real wooden Biwa, which is a traditional Japanese musical instrument. This is the brainchild of a creative studio called Sandwich, located near the Uji River in Kyoto and host of various creative disciplines. Sandwich has a studio, offices and multidisciplinary spaces. However, it also has a kitchen and rooms where artists and other creatives can meet to discuss ideas and projects. This studio attracts artists from all over Japan, particularly young people seeking creative inspiration from others.
---
This is the only part of the original house of Baron Fujita standing in this prime location that has been incorporated into the Ritz Carlton Kyoto. Called Ebisugawa-tei, it's now part of the Italian restaurant and very popular for private dinners and special intimate functions. The rooms, constructed in 1908, are done in the style that was fashionable during the Meiji era. This style incorporates the best of traditional Japanese design with Western comforts. So one will observe tatami mats, papered sliding doors, and intricately carved wooden beams. There is also a tokonoma with a scroll.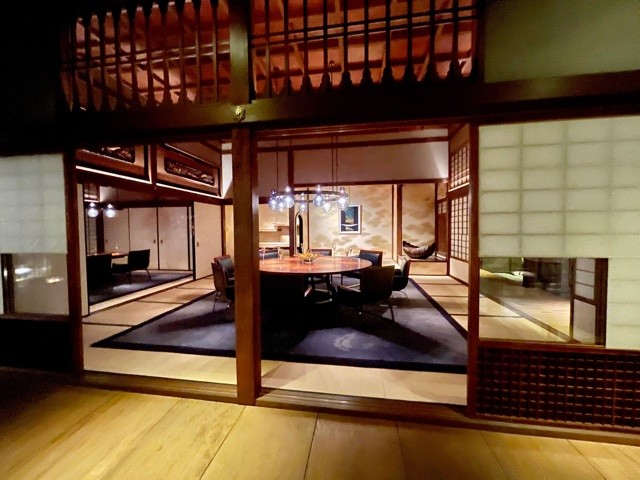 At the same time, the room has carpets and Western-style tables and chairs. This may sound like a strange mix to some until you actually set foot here and realize that everything works beautifully together in an elegant and yet comfortable way.
---
---
---
---
---
Read more about the Ritz-Carlton Kyoto in Travelife Magazine.