In the beautiful and ancient town of Santiago de Compostela in Spain, living a #Travelife, we stayed in the Cardinal Suite of the Hostal dos Reis Catolicos. This is the best hotel in Santiago de Compostela.
ABOUT THE HOSTAL DOS REIS CATOLICOS IN SANTIAGO DE COMPOSTELA
The Hostal dos Reis Catolicos, which is also known to some as the Hostal de los Reyes Catolicos, is the most historic hotel in Santiago de Compostela and the most elegant as well. It also has the best location, located right on the town square next to the Cathedral of Santiago de Compostela.
THE PARADORES OF SPAIN
A stay in one of the suites is not cheap, but it is worth every euro. Experiencing this historic hotel, a member of the Paradores of Spain, is one of the highlights of visiting Santiago de Compostela. So, yes, please cut down on your restaurant budget or shopping budget on your holiday in Spain. Save up for a stay at the Hostal de los Reyes Catolicos. You must eat in their fine dining restaurant, too, as it is truly lovely and the food is excellent.
HOSTAL DE LOS REYES CATOLICOS: HOSPITAL TURNED PILIGRIM HOTEL
The Hostal de los Reyes Catolicos was once a hospital designed with great fervor and attention to details by Queen Isabela, the Catholic Queen of Spain. She designed the hotel together with her favorite architect. If you like design and aesthetics, this simple and graceful building will just take your breath away. It's filled filled with medieval period antiques and art.
I just loved walking around this hotel as it's a maze of interconnected buildings and you never know what you will find at the end of a corridor. In fact, I got lost several times in this hotel.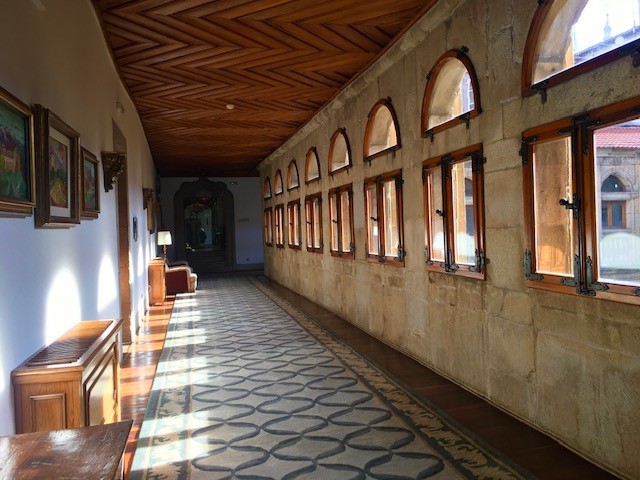 The interiors of the Hostal de los Reyes Catolicos are lovely as well. There is nothing over the top, in terms of design. The interiors are consistent with the atmosphere of this former hospital turned luxury hotel in this pilgrim town.
The interiors are in very good taste and you feel a peace and calmness simply because of its design. The hotel is full of lovely courtyards. Meanwhile, most of the rooms are designed around the courtyards but they look out onto the city.
THE INTERIORS OF THE HOSTAL DE LOS REYES CATOLICOS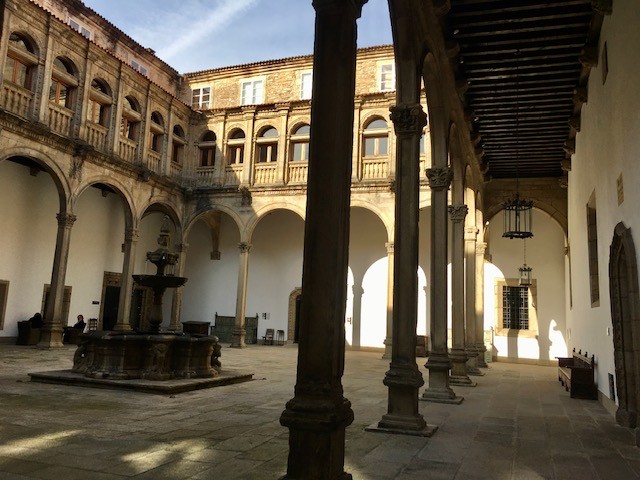 The interiors of the Hostal de los Reyes Catholicos are not open to the public so I'm posting photos to show you the beauty of simplicity in this ancient must-stay hotel.
It's a hotel from another time, and it's been very nicely preserved. I honestly can't think of anywhere else you should stay on a visit to Santiago de Compostela. The experience of staying at the Hostal dos Reis Catolicos is a must.
---
Meanwhile, the Cardinal Suite we stayed in is the most extraordinary suite in the city. This suite is known for its interiors and its unique hanging balcony. From the balcony, you can enjoy a lovely view and sunset.
There is no other hotel room in Santiago de Compostela with a hanging winter garden. I loved sitting here because we could see the sunset. It was wonderful for morning coffee before breakfast as well.
Yes, it was all 15th century in the suite but the bathroom was a complete 21st century makeover. The bathroom came complete with a glassed in power shower set-up for two and a very nice bathtub. I was floored by this high-tech bathroom in this very old-fashioned suite. Talk about a perfect combination of history, luxury, elegance and convenience.
———————-
———————-
Pope John XXIII is one of the VVIP guests who reportedly stayed in this same suite at the Hostal de los Reis Catolicos, living a Travelife, along with countless other VIPs. So I was half expecting a ghost to appear during our stay in this 500-year-old hotel room. Thankfully it was a perfectly peaceful night and today is another beautiful day in amazing Spain.