Each day of a week-long staycation at the Peninsula Tokyo, I looked forward to my room service breakfast. This was especially nice because I had a beautiful corner suite with views of the Imperial Palace and Hibiya Park. This is quite special as few hotels can offer suites with 180-degree views like this.
Then of course there's the breakfast itself. It's a traditional Japanese breakfast similar to the meals served at the top ryokan in Japan.
However, in this case, the Peninsula Tokyo Japanese breakfast was created by Kazuo Takagi, the Michelin two star chef behind the restaurant Takagi in Kobe. His restaurant is an institution for residents of the district of Ashiya, which is considered one of the best places to live in Japan.
WHAT'S IN A JAPANESE BREAKFAST?
The breakfast comes in a traditional lacquer box with all the accompanying condiments. There is an assortment of cold and cooked dishes, including steamed eggplant. Along with this came a perfectly grilled fish.
The fish comes with miso soup and rice, which are staples for a good morning in every household in Japan. That week, the grilled fish selection was a fillet of salmon.
WESTERN BREAKFAST AT THE PENINSULA TOKYO
I ordered this Japanese breakfast several times. Occasionally , I tried the Western breakfast too. The Peninsula Tokyo breakfast offers several choices for a delicious Western meal. My favorite was the Eggs Benedict, which is probably the best Eggs Benedict in Tokyo. It's made with thick and juicy bacon, and placed on a sour dough bun that is so well done.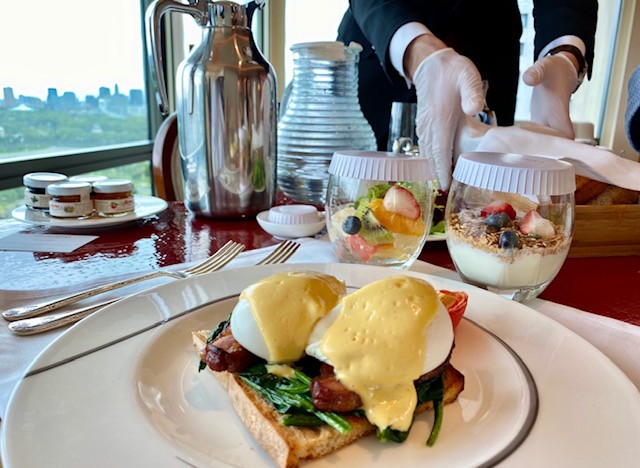 WHAT'S A CHINESE BREAKFAST LIKE?
As a nod to its Hong Kong heritage, The Peninsula Tokyo also offers a Chinese breakfast with congee and a bamboo basket of siomai and siopao. For a week-long stay, it was so nice to alternate between these three choices.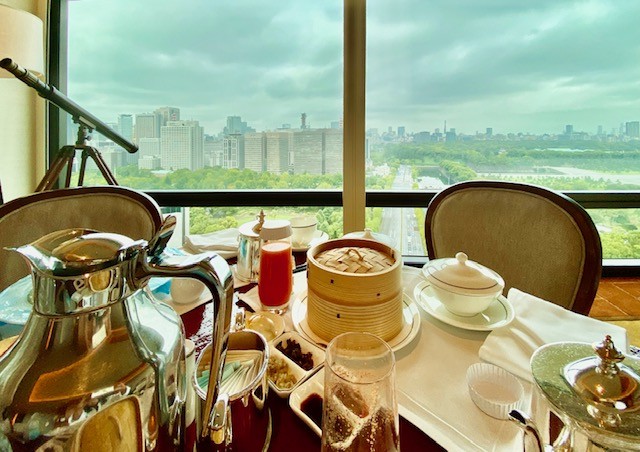 In fact, breakfast in the corner suite of the Peninsula Tokyo was so enjoyable that we spent hours savoring it. By the time we were finished with our meal, it was practically time for lunch. Of course, this was just an excuse for another delicious meal in one of the best hotels in Tokyo.
Did I mention that the dim sum at Hei Fung Terrace, the hotel's Cantonese restaurant, famous equally for its food as for its lovely interiors, is just perfect for lunch?
Read more about the best hotels in Japan in Travelife Magazine.