At its peak, the New York Grill of the Park Hyatt Tokyo was easily one of the best restaurants in the world. This was in the late 1990s and the hotel had just opened to great acclaim. It literally changed the landscape of the hotel industry. Until then, there was no hotel on the planet that made ultra-stylish modern interiors with extreme attention to details for the luxury market.
THE PLACE TO SEE AND BE SEEN IN TOKYO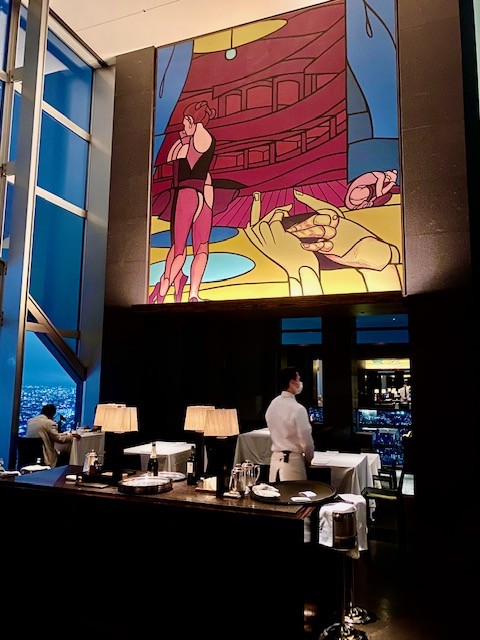 Meanwhile, the New York Grill set the standard for contemporary fine dining. I do not exaggerate when I say that everyone who was anyone in the world wanted to eat here. The waiting list for a table at the New York Grill was as long as several months. There were lots of people hoping for confirmed dinner reservations and also for a table for Sunday brunch. Sunday brunch at the New York Grill was the best in Tokyo. Of course, the wait was worth it.
In the late 1990s, this was the destination restaurant for people who had already been everywhere and done everything. First, there was the location. There were few restaurants that occupied the entire floor of the top of a building in Tokyo in those days, so this fact alone made everyone's jaw drop. I think the massive open kitchen also made it to restaurant design history. Three sides are either open or walled in glass so there is no place to hide messy preparations. This ushered in the era of performance cooking, where your food is on show from preparation stage to plating and serving.
IF VIEWS COULD KILL
The views from this restaurant were — and still are — a crowd drawer. You see, when you get out of the elevator on the restaurant floor, immediately you are eyeball to eyeball with incredible views of Tokyo. These are not just any views either. The New York Grill is housed in a dome that is three or four storeys high. So you have this incredible feeling of being in the sky from the height relative to outside, and then also from the height inside.
Then there was the wonderful food. I've known many of the New York Grill chefs and each one had a way of combining the best of Japanese ingredients into great Western-style comfort food. This has always been the go-to place for steak-and-sides for dinner.
Then for lunch, including on Sundays, the chefs always created a truly fancy appetizer and dessert buffet. Diners could have their fill of both and they chose a main dish in between. This was so enjoyable and a long Sunday brunch at the New York Grill was my favorite weekend activity for a very long time.
LIVING IN ELECTRIC DREAMS
Finally, the electric atmosphere of the New York Grill was a great crowd drawer. It was always full of Japanese celebrities, New York billionaires, Hollywood movie stars and European supermodels. All the American movie stars visiting Tokyo stayed at here, so it was not unusual to see one of them in the next table. In fact, this is how Sofia Coppola ended up choosing to shoot her movie "Lost in Translation" at the Park Hyatt Tokyo. She'd stayed here several times.
This made for a real adrenalin rush, to enter a restaurant full of movers and shakers and beautiful people. If you were not part of this crowd, you suddenly felt you had joined anyway.
For a time, I ate here several times a week. In fact I was always looking for an excuse to eat here because life seemed more perfect after a meal at the New York Grill. I kid you not. I always left the restaurant with a much better feeling about the world than when I entered it. And this is probably the best reason to eat in any restaurant.
Because I ate there all the time, I had a hotline for booking tables. In those days, as I have already written, the restaurant was completely full for months. However, when possible, they always left one table or two empty for sudden VIP arrivals. So if I was lucky and no VIPs had claimed this table, it was usually mine. This is how the New York Grill became my "kitchen."
FINE DINING AMIDST THE PANDEMIC
Fast forward to September 2020 and we are in the middle of the worst pandemic mankind has seen in about 100 years. The world has become a place of lockdowns and misery in a matter of months. So if there was any perfect time for me to revisit the New York Grill, it was probably in these COVID-19 months. I have already mentioned how my perception of the world always changed after eating here. Well, last September was a good time to get my current worldview altered even slightly.
Fortunately, the New York Grill did not disappoint. The best thing about it was that it was exactly the same as I have always remembered it. Absolutely nothing had changed. So if someone had tied a blindfold around my eyes, I would still be able to find my way to my favorite table.
---
READ ABOUT THE LOST IN TRANSLATION SUITE OF THE PARK HYATT TOKYO
---
PARADISE FOUND IN TOKYO
In this current world where everyone's lives have been turned upside down, the New York Grill was still the paradise it has always been. Even the menu did not seem to change much, Why change a good thing that works, after all? So the steaks and the sides were as good as always. I ordered a rib-eye grilled medium, and as always I asked the kitchen for rice instead of potatoes.
I was so thankful that night that some things indeed never change. The New York Grill was an oasis of normalcy and a vestige of the old world we had before the pandemic. This was a most precious thing, and it gave me a real break away from all these months of thinking about COVID-19.
JUST LIKE THE GOOD OLD DAYS
In fact, the restaurant was full that evening and as lovely and lively as ever. And the waitstaff who came to take our order also said: "We served over 100 covers at lunch today. And we've managed to keep the appetizer and dessert buffet too." Wow. That sure sounded like a pandemic had never happened..
Nevertheless, these days are also all about safety. Masks, temperature checks and sanitizers were all in place. So perhaps "the best of the old world and the new world" is a more accurate description for this restaurant. And for now, this is probably the most perfect combination of all.
Read more about the best hotels and restaurants in Japan in Travelife Magazine.
---
A HACIENDA HOTEL OPENS IN SPAIN AMIDST THE COVID-19 PANDEMIC