The world's best hotel for 2023 is not very big at all. Tucked into a discrete but ritzy neighborhood in the hills surrounding Lake Como, not far from the estates of George Clooney and Richard Branson, it was once the home of a banker who I was told lived there all alone with his wife and a handful of staff.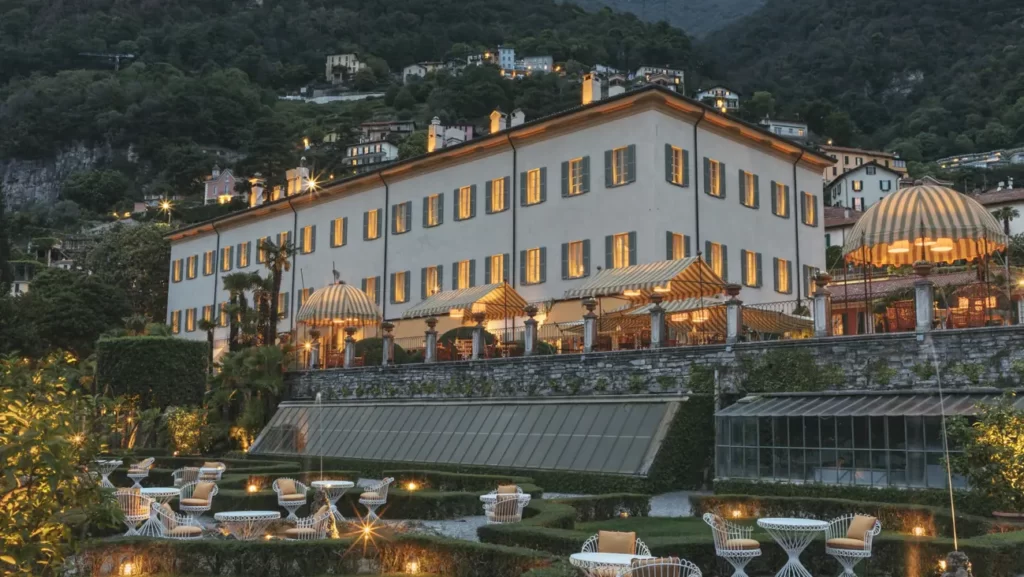 Today it is a 23-key jewel of a hotel and it's full of life, thanks to the vision of third-generation Lake Como hotelier Valentina de Santis whose family also owns the very popular Grand Hotel in Tremezzo. Buoyed by the success of their lakeside property, which is full almost every day that it is open, the de Santis family took the plunge and purchased the private property that has now become the famous Passalaccqua.
TOTAL MAKEOVER
Over years of restoration and renovation, and with it a careful curation of antiques and decor for a glamorous but lived-in look, I heard they spent a fortune to create a jewel out of a building that was falling into decay and badly needing repairs. Its saving glory was its decent width spanning the lake frontage — perfect for a small luxury villa — and the fact that it actually had a view of Lake Como.
Who would have thought that this would still be possible in 2023? But, yes, this estate was up for grabs and it had frontage, location and also a proper gate and driveway.
Entering Passalacqua for the first time is like opening a storybook. When I visited, it had just opened but it had not yet won the top hotel award. So it was more a secret passed around among insiders, who whispered about the beautiful small new luxury hotel that just opened in Lake Como.
WELCOME TO THE CLUB
So it was not yet on everyone's lips at that time — this was just July 2023 — but already it had the feel of a private club of influencers mixing with the rich and famous. You could tell the influencers apart because they dressed better than everyone else and walked around with selfie sticks, of course.
As for the really rich and famous, most of those I bumped into looked like they were really on holiday from their real lives. Think linen shirts, cotton sundresses and lots of sunscreen. Unlike in the larger hotels with grand entrances for all to enter, there are no paparazzi or celebrity spotters here — or at least none that make it through the closed gates.
The interiors are all about heavy textures, dark paneling, lots of Chinoiserie, and even more art in the form of prints, paintings and photographs wherever you will find a wall.
The main entrance is the brightest part of the hotel. It's straight out of a royal palace, with two floor high ceilings and a very lovely double staircase lined with flowers and giant blue-and-white porcelain jars.
IT'S ALL ABOUT THE DETAILS
Interestingly, the rest of the public areas are mostly one small room after another, each as cozy as the last one. With windows looking out onto the front gardens, they are the perfect — and I must say perfectly decorated to replicate an aristocrat's tasteful home — shady places to hide from the afternoon sun with a good book, if you are the type to do so.
The bar, too, is made up of two small rooms. In one room, a family can comfortably enjoy afternoon tea or pre-dinner drinks. Meanwhile, the main bar itself is more of a cozy corner with a counter and bar stools, and again art and paraphernalia everywhere to make you feel like you are a guest in someone's summer home.
SMILES ALL AROUND
Aside from its overall loveliness, the best part about Passalacqua is its staff. Everyone is friendly and smiling, and nothing — absolutely nothing — is too much trouble for anyone. So wherever you are on this property, you will feel welcomed and cared for in the best possible way. And this is really the perfect set-up because you will want to spend as much time as you can in the lounge, the terraces and the gardens.
My personal favorite was champagne and canapés at sunset while sitting on bright yellow cushions on the garden stairs facing the lake. It was the most wonderful place to relax and think about one's luck at being in the world's best hotel that almost doesn't feel like a hotel at all.
Passalacqua is a member of Preferred Hotels and Resorts.