Pécs is a city full of intricate and colorful buildings around a town center that visitors travel to see. Yet there we were, walking away from it in the heat, led by Norbert, our host and a man with a great eye for art. He does not believe in taking cars in his city, and rightly so.
"Everywhere is walking distance in Pécs, and it's best to see everything on foot," he told us. Just then, we were on our way to the Zsolnay Museum and Factory, found along the outskirts of Pécs.
Zsolnay porcelain in Pécs
But we were city girls so the trek was the equivalent of our cardio program, made bearable by our excitement to see the masterpieces of Zsolnay. Since our arrival in Pécs, Norbert had been raving about the beauty of Zsolnay porcelain. And now all these discussions had readied us for our visit to this mecca for lovers of Hungarian porcelain.
Among connoisseurs, Zsolnay is a name that is synonymous with the finest aesthetics and craftsmanship of Hungary. And here, the museum of Pécs is ground zero for its glorious past. No other museum has assembled such a collection of pre-1914 (the beginning of World War I) pieces of Zsolnay.
The pieces in the collection are all perfect, by the way, because the man who purchased these pieces insisted on only buying the best and the undamaged. This Hungarian-American collector then bequeathed his pieces to the city of Pécs.
Inside the Zsolnay family home
Today the city has embellished this legacy by turning the neighborhood into a cultural district. Now it is one of the top tourist attractions of Pécs. The city did everything right. They placed the museum in the original Zsolnay home.
Then they promoted the ornate family mausoleum, and revived the workshops so that visitors can observe the process of making a porcelain piece. However, the details of production are so confidential that taking photos is not allowed.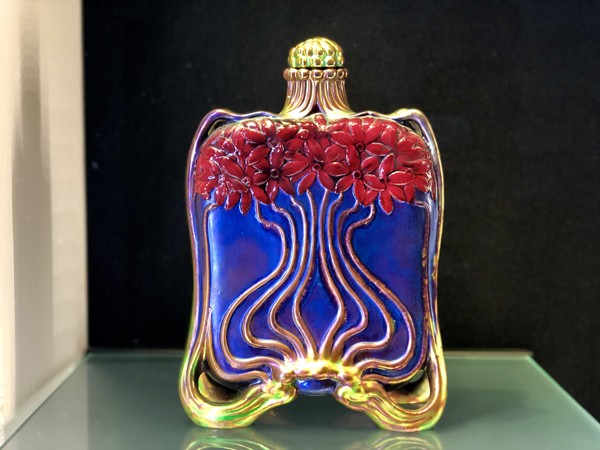 We also found a chocolate store and a stylish company called 1861 that has been making gloves since the 19th century. But of course the museum is the piece de resistance. It is just impossible to find so many exquisite pieces of Zsolnay even in the best antique stores of Budapest.
And even after Norbert's crash course on the finesse of these works, I was completely unprepared for the onslaught of styles, colors, and inspirations that the Zsolnay family worked with to create masterpieces that still leave people breathless with delight over 100 years later.
The finest antique porcelain in Hungary
I walked through room after room of porcelain encompassing the various periods of Zsolnay. Each one left me more breathless than the last. One room held objects that represented the foray of the family into the art nouveau style.
The use of eosin in porcelain
Then there were pieces that reflected the innovative usage of eosin, a material whose composition is kept completely secret. It gives pieces a deep luster unlike any other.
By the end of my visit, I was in love with Zsolnay and the lost world of 19th century grace it represented. I was even ready to take my commitment one step further by selecting a not inexpensive piece from the factory shop to bring home as a souvenir of Hungary.
After seeing the pre-loved antique pieces of Zsolnay, however, the brand new jars and bowls in the sho seemed lifeless to me. As for me, I was looking for pieces with soul, and not just a trademark at the bottom.
Porcelain business card holders
Norbert observed my quandary, and said, "I have two Zsolnay business card holders which I love." I did not ask him whether he owned the circa 2019 versions or the antique ones, but his phone does not even have WhatsApp or Viber; so I thought it unlikely that anything in his home would be new.
"I'm looking for character," I told Norbert, "and I guess that comes with age." The fact that dozens if not hundreds of pairs of hands had poured water from a Zsolnay pitcher made in the 1880s made all the difference in the feel of a piece to me.
"I'm looking for character in the Zsolnay porcelain I buy, and I guess character comes with age," I told my host, Norbert.
---
---
The best restaurant in Pécs
Our hearts saturated with art, my attention now turned to nourishment for the body, and ironically I wanted simple honest Hungarian food in a city so prettily and ornately embellished as Pécs.
"I would like a very good lunch," I said to Norbert, who then took us to his favorite bistro. It also happened to be one of the best restaurants in Pécs.
Run by three young men out of the ground floor of an ancient shop house, it is one of the best restaurants in Pécs. Famished, we ordered a tray of cold cuts plus the requisite pork cutlet and then sat down to enjoy the feeling of being in Pécs with a bottle of wine.
A serendipitous moment
On our way back to the hotel, we passed by stylish restaurants, and the Palatinus Hotel. The latter is the most historic hotel in Pécs. This three-star hotel has obviously seen better days, but its past glory is still evident. It's covered on the outside with Zsolnay tiles. Also, you can still see the art nouveau room where Bela Bartok once performed.
SERENDIPITY AND AN ANTIQUE STORE IN PECS
Then entirely by chance we saw an antique store, messy on the outside and so dark inside that we initially hesitated to enter. However, several shiny objects caught our eye so we decided to tiptoe in. This was how we found ourselves face-to-face with bespectacled old man behind a wooden desk, observing us inquiringly. He most likely assumed we thought his store was a thrift shop.
---
---
But it was a proper antique store, and by the window two exquisite Zsolnay vases stood. These were the kind of 19th century pieces I wanted. One was short and squat with filigreed handles, while the other was tall and graceful with cut-outs at the edges. Both were painted with flowers as faint and delicate as watercolors lined with gold.
BUYING PORCELAIN IN HUNGARY
The negotiations in a mixture of English and hand signals, took 30 minutes. During this time, the proprietor's cousin, who learned English as a college student, rushed over to smoothen out the international relations.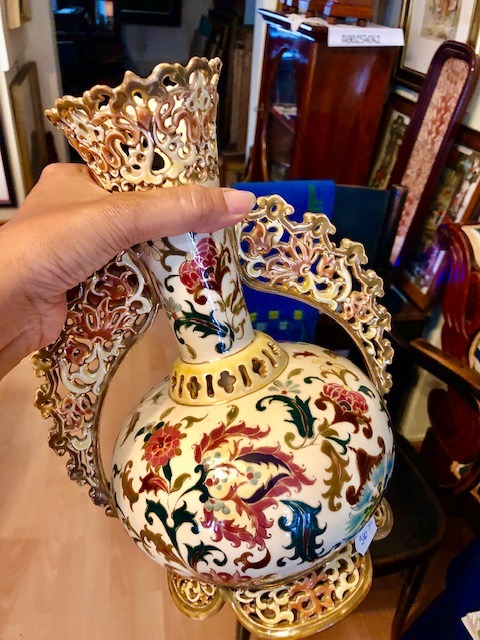 Then she explained: "My cousin gets these pieces from families around Pécs. They usually keep these for generations until finally they need the money. But these kinds of old flawless Zsolnay are so rare that you will probably never see another one again."
Even before she said this, I already made up my mind to take these pieces of Hungary back home with me. I already knew that these would add just the right dash of elegance on the sideboard of my dining room.