Yes, that was the exact phrase a foodie friend had said to me that fateful afternoon in Granada last spring, over lunch in a stylish apartment along the Recogidas street of the city, just past the intersection of Camino de Ronda. In fact, his exact words were: "When you are in Seville someday soon, you must eat at Manzil because this will the best new restaurant in Seville."
In fact, he added: "I'm quite sure it will be the next restaurant to receive a Michelin star."
This left me sufficiently intrigued. Then as fate would have it, I found myself in Seville on business that very same weekend. The trip was completely unplanned and unexpected, but the name Manzil was still in my head so of course it was our first choice for a good meal in Seville.
LUNCH WAS MEANT TO BE
Manzil was barely a month old when we were there so reservations were not so difficult. But neither was it empty. In fact, for a new restaurant run by a chef without a track record in Seville, it was actually quite full. Several tables in the main area were occupied and there was a lively party in the private room.
The restaurant is decorated in an eclectic way with a rather formal entrance and vestibule, playful pen-and-ink type sketches and a theme of blue as background for the tables set in the Scandinavia style: no fuss, and as minimal and streamlined as possible.
I booked the equivalent of the Chef's Table because I love to see chefs at work. I'm not sure if it really is the official Chef's Table, but it certainly gave us a wonderful view of Chef Juan Andres Morilla and his team creating an array of tantalizing dishes.
Our first course was a nice nod to the pre-lunch vermut tradition so beloved in Andalucia. We were asked to stand up from our table and literally hang around the plating station as if we were at our neighborhood bar on a weekday, playing hooky from work. What fun this was, especially with a vermouth in hand.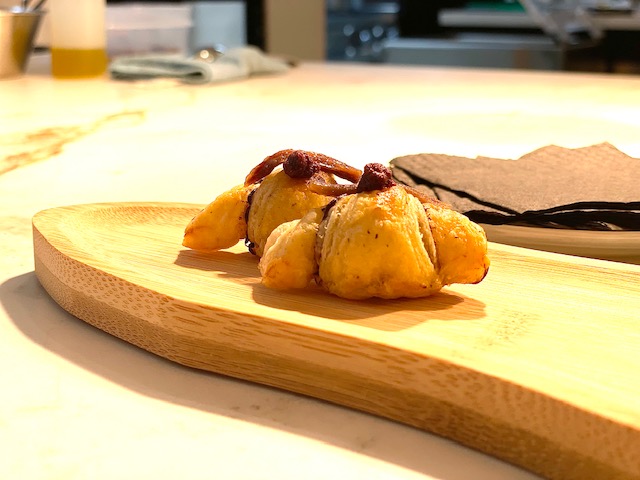 In keeping with custom, two glasses of vermouth awaited us along with a stylish tray of three bite-sized tapas: tiny croissants laced with anchovies, incredibly flavorful olives, and a single piping hot croqueta each made of codfish.
Everything was beautiful and just right, and I could not make up my mind which I liked best. All I knew is that I wanted seconds or thirds. But it certainly set the tone for the rest of the afternoon. We were only enjoying the appetizers and already it felt like the weekend had started.
BEEF TARTARE ON A STEAMED BUN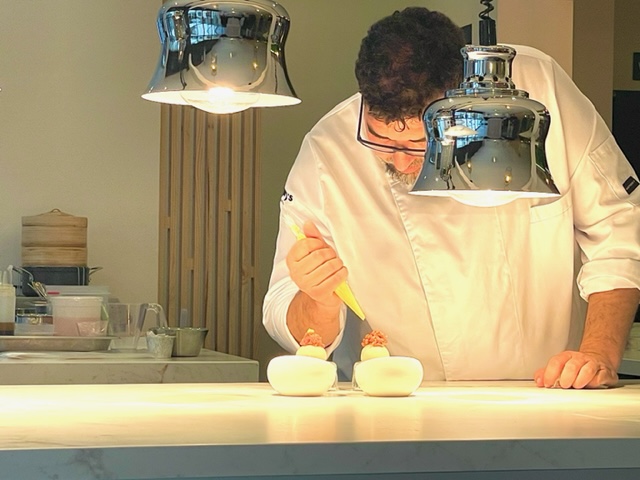 The next course was a testament to Chef Juan Andres' skills in my opinion, as I do not usually eat beef tartare. But when his team set a pretty plate of it in front of me, lying like a jewel on top of tiny steamed Chinese bun, I had to eat it — and I enjoyed it thoroughly. The steamed Chinese bun was a particularly nice touch as — who expects to have it with beef tartare, after all?
THE SEA AND THE EARTH ON A PLATE
Then came a simple dish that was perhaps one of my favorites because, symbolically, it felt like a fusion of everything interesting in life. A raw oyster and a slice of raw white fish cut sashimi style were arranged very prettily on a white plate amidst a pureed sauce of vegetables and spices that reminded me of the sands of Arabia. It was a nice combination of sea and soil, as well as East and West.
NOT YOUR EVERYDAY GARDEN VARIETY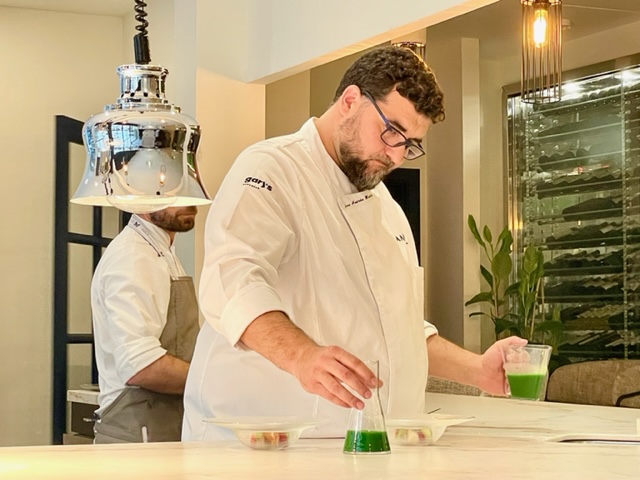 The salad that came next — I am assuming it was a salad — was equally intriguing. Chunks of cauliflowers, cucumbers, and berries were laid out prettily on a clear bowl so that the colors might pop out. Then, just as I was about to fork over a mouthful, one of the waitstaff came over with a small pitcher of green juice that reminded me of the liquid dinners I used to have at a spa in Thailand. He poured the entire pitcher onto the bowl, thus giving it the most authentic feeling of a fresh forest with all its intermingling tastes and sensations.
COMBINATIONS TO REMEMBER FOR A LONG TIME
What came next, I will certainly remember for a very long time because the next two two dishes consisted of ingredients I do not usually associate together. With the exception of the beef, I normally I do not eat them either.
First came two simple plates — Chef Juan Andres is obviously very much influenced by the aesthetics of Scandinavia and Japan, which incidentally are quite similar. One with a luscious slice of beef adorned only with small carrots and hazelnuts, and the other with a slice of cooked tuna and a boiled shrimp.
As is common in Spain, the beef had very little fat as Spaniards like the meaty flavor and chewiness of lean meat. This is the exact opposite of what I usually enjoy so my expectations for this dish were not high.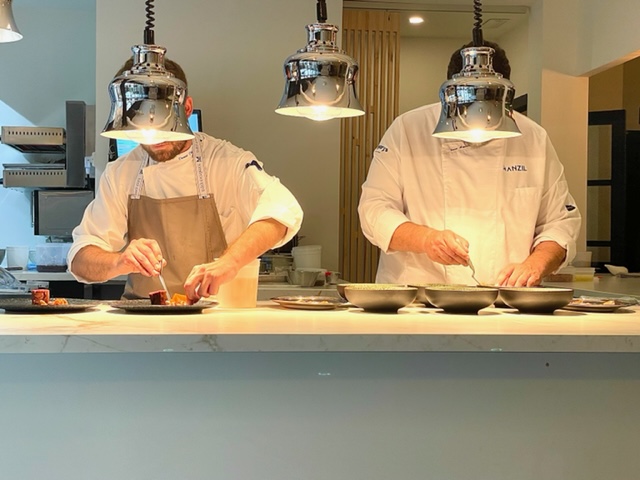 However, lo and behold. Thanks to Chef Juan Andres, I discovered the joys of lean Spanish meat cooked rare and served with few trappings. It was indeed a joy to chew and to taste, and even now as I write this 9000 kilometers away, I suddenly have the urge for a good lean steak.
DUCK AS A CONVERSATION STOPPER
Then came the piece de resistance. And I mean this in every way for I neither like duck very much — it is not the first thing I will choose on the menu — nor do I jump up and down at the thought of duck prepared rare. However, the smiling confidence of the chef when he came over with our main course left me with no other option than to try this dish he'd worked so hard on.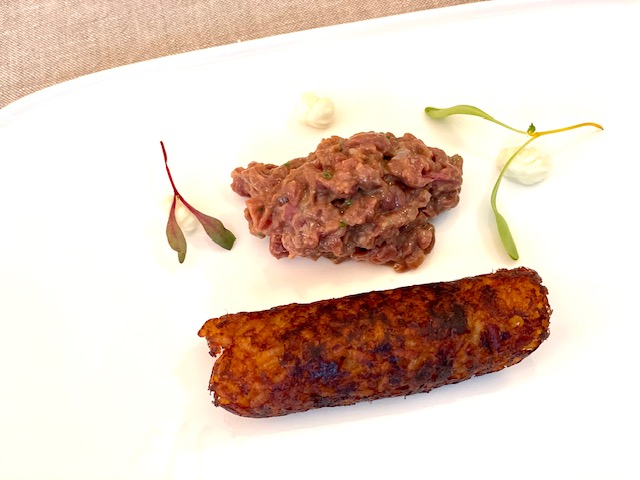 What luck that his charm had persuaded me to lift my fork to my mouth instead of trying to shove an uneaten plate of food to one side as part of some form of camouflage. Every dish we tried was remarkable but this was definitely the dark horse that won the derby.
Chopped and seasoned duck meat, very raw, lay opposite a rice cracker wrapper flavored with lots of soy sauce and with more duck meat inside. The idea was to eat the duck meat and the rice cracker wrapper together so that one felt the genuine raw flavors of the duck adequately while having this same rawness cushioned by the comfort of soy sauce and the sensation of crispness.
---
---
Even now, I am wishing I could fly to Seville to have again this dish that once not too long ago I never would have liked. How many people might be able to say: "I would like to fly to Seville to have raw duck once more?" Very few can say so, I am assuming, unless they have had a meal at Manzil.
SHARP AND SWEET TO END
After this highlight, the desserts were almost an afterthought for me, but not rightly so. We had a lemon curd sorbet with remnants of crusts to cleanse the palate and a treat of a caramel wafer sandwiched between chocolate ice cream and a chocolate cookie. Both simply done and served without fanfare, but ever so refined in taste and concept.
ABOUT CHEF JUAN ANDRES MORILLA
After enjoying this meal at his new restaurant, it occurred to me that Chef Juan Andres is the exactly the kind of creative who everyone will love. He pushes the boundaries just enough to open your world but without making you feel uncomfortable. Our lunch was long and enjoyable, and so worth the trip to Seville on the kind of rainy weekend that made sightseeing impossible. In this sense, Manzil was the perfect refuge,
Chef Juan Andres is not even a Seville native, by the way. He moved from Granada to make his mark in this larger culinary scene, and it seems that he is perfect exactly where he is right now.
Restaurante Manzil. Calle Alfonso XII, Seville. Telephone : +34 854 74 59 06
---
THE VERDICT
The tasting menu is wonderful and the restaurant ambiance is friendly and welcoming.
Great value for money. Go before it gets its Michelin star and the world discovers it.
---