My last gastronomic meal before COVID19 changed the world forever was lunch at the famous restaurant El Celler de Can Roca. It was just days before the coronavirus hit Spain like a meteor and there I was in the town of Girona, about 90 minutes from Barcelona, oblivious to the disaster about to descend. This was my second visit to the Roca brothers and I was eager to sample their winter menu.
We arrived at 1 PM, on time just like all the other diners that day. The waiting list for a reservation at El Celler de Can Roca is generally about 15 months, and the feeling for many is like winning the lottery. So everyone looked excited and pleased at having secured one of the most coveted restaurant tables in the world. Not a few, like me, had even flown halfway around the world for this experience.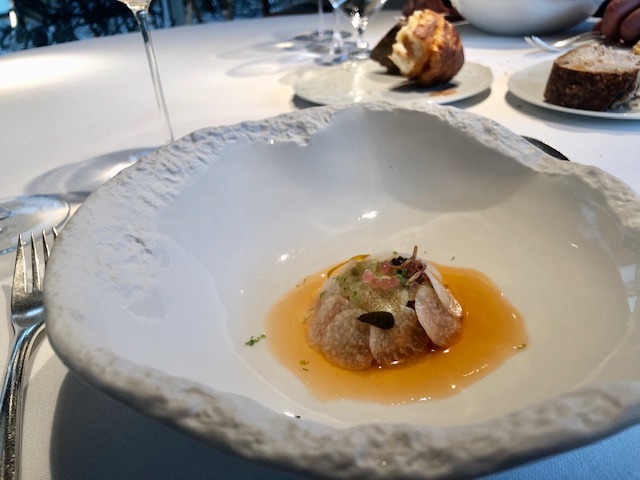 IS THIS THE LONGEST LUNCH IN THE WORLD?
Our lunch that day lasted seven and-a-half hours, including digestifs in the lounge. I personally thought that was a world record, and yet we were only the second to the last to leave the restaurant. When we headed out the door at 745 PM, one group that had been seated next to us at lunch was still at the bar. None of them were showing signs of leaving.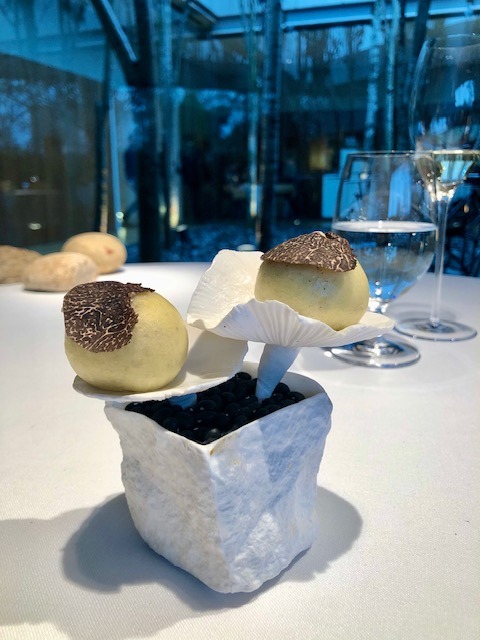 In all, we had 23 dishes, including appetizers and petit fours. To complement this spectacular meal, the restaurant sommelier recommended we order their wine pairing, which resulted in a day of about 27 different wines and spirits.
Interestingly, with so much alcohol in my system, I expected a massive hangover the next morning; but there was not even a faint hint of one. This may be part of the deft touch of Josep Roca who curates everything poured into a glass here.
A WORLD WITH NO PROBLEMS
Both visits to El Celler de Can Roca have been unforgettable in every sense. People travel from far and wide to this temple of gastronomy expecting to taste a series of delicious Instagram-worthy dishes.
It's only later that they realize how the seven hours they spent here was actually way more than about food. In truth, it is a chance to see how dreams and blissful fantasies become reality even for a moment. No matter who the diners are and where they have come from, nothing will prepare them for a meal at El Celler de Can Roca. It is spectacular in every sense.
This is a gourmet experience and a wine experience, as well as a complete multi-sensory one. It's a ticket into another world where everything is perfect and all you need to do is sit back and enjoy.
I've eaten in so many of the world's best restaurants, yet this feeling of joy that accompanies the meal is unique to only a few. And I experienced it on both visits to El Celler de Can Roca. When I passed through the door of the restaurant, I literally left my troubles and the ordinary world behind — right next to the umbrella stand perhaps. Especially this meal last January 22, which I count as one of my happiest days for 2020 so far.
WHERE TIME STANDS STILL
What is the feeling of being in another world like? For one thing, time stands still and you are suspended in a happy animation, in a place where problems do not exist — at least at the table. Suddenly everything feels perfect but one doesn't know exactly why. It's enough to understand that you are exactly where you should be and nowhere else.
You are both witness to a theater of gastronomy and also participant. This is how you manage to sit through a seven-hour meal and feel like it is only 60 minutes.
THE TRULY WONDERFUL COOKING AT EL CELLER DE CAN ROCA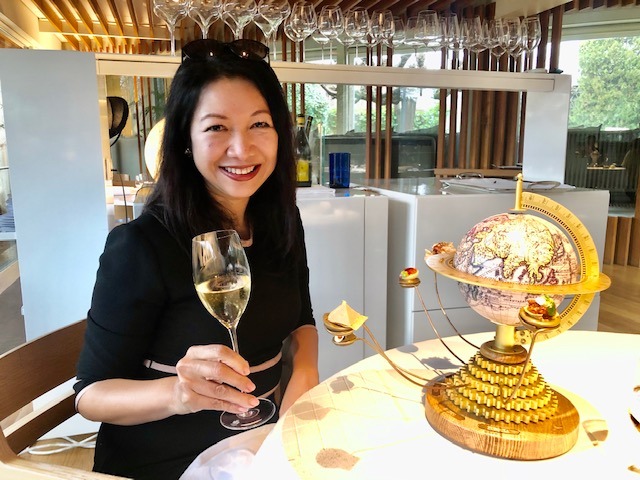 The restaurant vibe itself is polished, streamlined and modern. It was storming outside that day — the heaviest rains in Girona in recent history actually — but we felt nothing at all, even if we sat next to floor-to-ceiling windows on both sides.
You might be wondering at this point: what exactly is served at a restaurant officially called "the best restaurant in the world" several times? Well, here's the menu for January 22 at El Celler de Can Roca.
The appetisers and main courses were prepared by Chef Joan Roca while the desserts were made by his brother Jordi Roca. Meanwhile, the wines were chosen by Josep Roca.
Josep Roca and Joan Roca were at the restaurant that day, and they both came over to say hello. The last time I'd seen Joan Roca was at the presidential palace in the Philippines for the opening of Madrid Fusion Manila, a food festival that involved some of the most famous chefs in Spain.
THE WORLD THEN AND NOW.
Since that perfectly delicious day last January, in a span of several months the world has suddenly become a most imperfect place. The global status quo has changed and not for the better. And if I understood then what I know now, perhaps I would have savored the sweet finish of the wines a little longer.
---
READ ABOUT THE MOST ROMANTIC WEDDING VENUE IN SPAIN
---
Or maybe more diligently memorized the way half a dozen ingredients were combined so nicely into a bite-sized dish that still retained every flavor. Remembering beautiful details like these help make the vicissitudes of life more bearable, after all.
But I was too busy being happy and too happy being fed to digress from emotions to analysis. This is what a meal at the world's best restaurant does to you. It serves you bliss on a plate. Or, more accurately, bliss on 23 plates.
---
THE MENU AT EL CELLER DE CAN ROCA
The meal began with THE WORLD
For this first course, a globe was set in front of us — one for each. In hindsight, how prophetic this turned out to be. There we were literally with the whole world in front of us, not knowing we were looking at it the way we knew it, for the last time. It was served to us on a plate and then quickly taken away. But I digress from the glorious food.
Each globe had arms containing canapés inspired by some countries that the Roca brothers recently traveled to. Everything was delicious and each really reminded me of the country mentioned.
There was a tiny taco seasoned with mango, onion and coriander to represent Mexico; and a canapé of Middle East spices shaped in the form of a Giza pyramid to show Egypt. The arm for Turkey had a slice of lamb with yoghurt and cucumber, while a piece of raw octopus topped with ginger represented Japan.
However, the big surprise here was figuring out how to open the globe. You see, inside the globe was another delectable appetiser and we could only eat this by solving the puzzle. Eventually we found the solution. Each arm holding an appetiser had to align with the country on the map. When everything is aligned, the globe opens.
Mexico : Jicama taco, mango, onion, lemon, achiote and coriander
Japan : Octopus with ginger
Egypt : Giza pyramid
Turkey : Lamb, yoghurt, cucumber, onions with mint
Peru : Chili crab
---
Memories of a bar in the suburbs of Girona
This dish was basically a 3D art installation, too beautiful to eat. It was the paper version of a 1960s tapas bar — yes, the old-fashioned kind of Spanish hangout before tapas became so hip and stylish. We imagined that this was a childhood memory of the Roca brothers, perhaps a place a neighbour owned or one their parents took them to when they were growing up.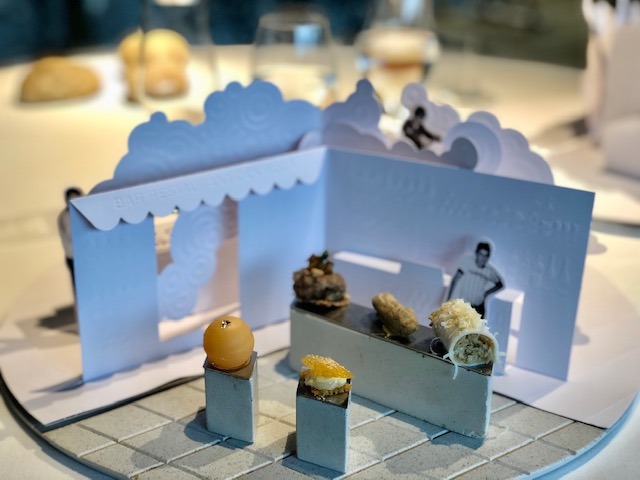 This 3D paper diorama arrived complete with black and white photos of the chef and waiter standing behind the counter. Inside this installation, Joan Roca placed assorted tiny treats from another era : meat cannelloni, a truffled brioche, a fried black olive and a cassava flower grilled in butter. No one eats tapas like these anymore except perhaps in the most rural places of Spain.
We felt like we were playing with a doll house although this could easily have been a piece in a modern art gallery.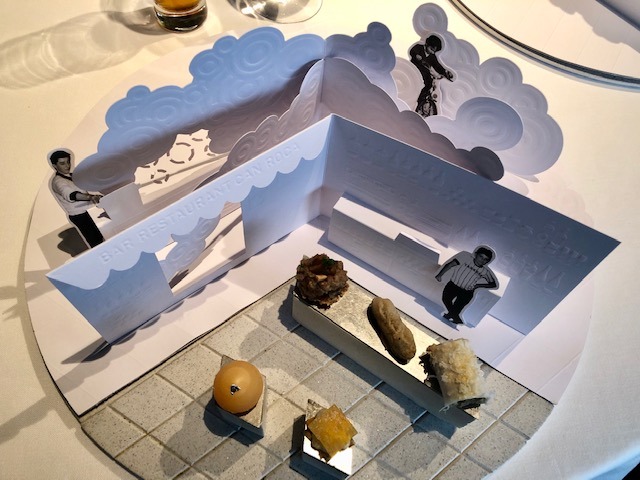 Squids, kidneys and sherry. Gentian and orange bonbon. Montse's meat cannelloni. Delicious Cassava flower grilled with a beurre blanc sauce and roe of mullet, caviar and salmon. Green olive's ice cream, and black olive tempura. Cabbage, truffle and anchovies. Tartufo meringue. Truffled brioche.
---
Vegetable surf and turf. Seaweeds and spring herbs and flowers orange salad
Sweet potato puree, carrot puree, saffron and vinegar, yuzu marmalade, carrot sauce, tangerine, apple, orange juice, ginger, sriracha sauce, grilled mango, yellow beetroot, salad of chicory, Jerusalem artichoke and mango, air of piparra, bottarga and sea urchin
---
Spring pickles with walnut romesco sauce.
---
Mackerel ajoblanco : Mousse of ajoblanco and mackerel skin, lemon puree, capers, succulent leaf, fino wine jelly and mackerel soup
---
Charcoal-grilled calcot with hazelnuts, black sesame, nori seaweed and calcot oil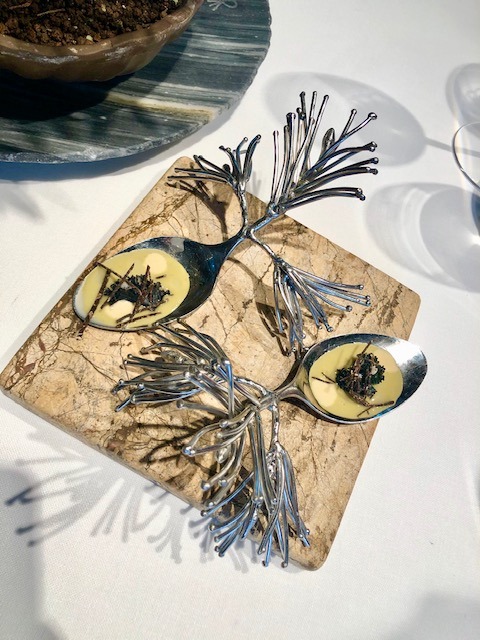 ---
Pumpkin with smoked eel. Light pumpkin seed milk and dark pumpkin seed milk, pumpkin oil, fried pumpkin seeds, pumpkin juice, confit lemon and orange peel, bell pepper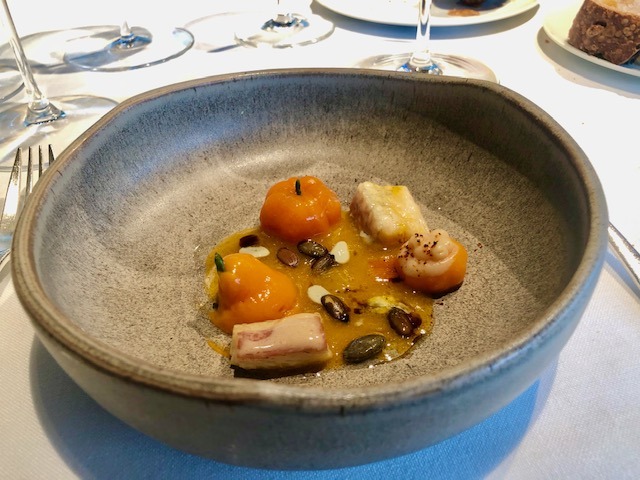 ---
Prawn marinated with rice vinegar, head juice, crispy prawn legs and seaweed veloute
---
Langoustine with sobrassada sauce, langoustine velour and parsley jelly
---
Semi-cured hake, juice of its bones, asparagus and rocket pesto, grilled piparras and rocket oil
---
Steamed freshly-caught whole fish stuffed with seaweeds and sea anemones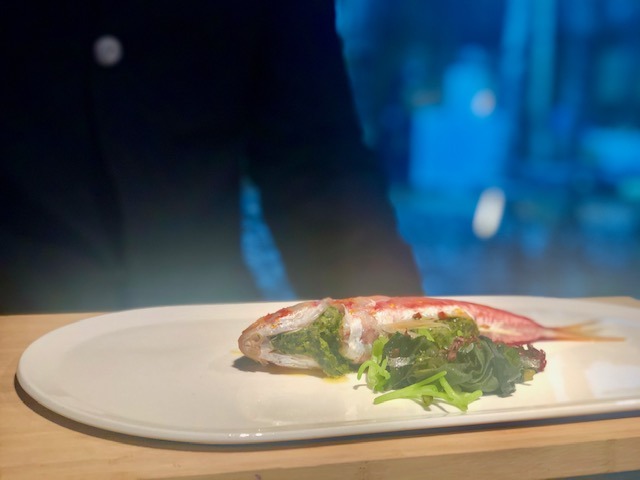 ---
Iberian suckling pig satin with kabu turnip in red wine and juniper berry chantilly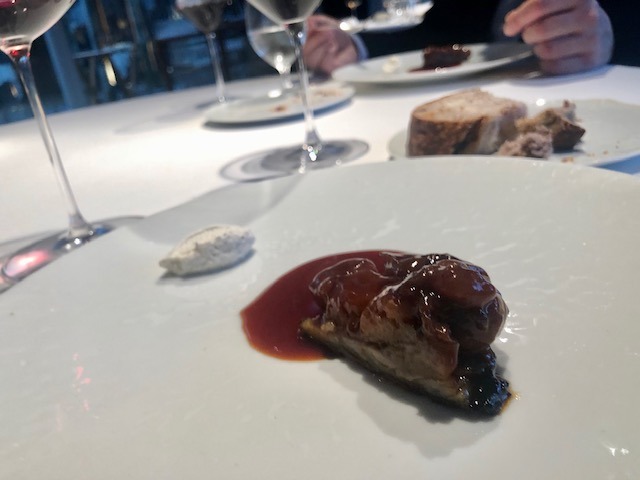 ---
Squab pithivier with spinach and truffles, squab sauce and chlorophyll spinach sauce
---
DESSERTS AT EL CELLER DE CAN ROCA
Petrichor : Distilled earth, pine syrup ice cream, carob cookie, fir dust and cocoa biscuit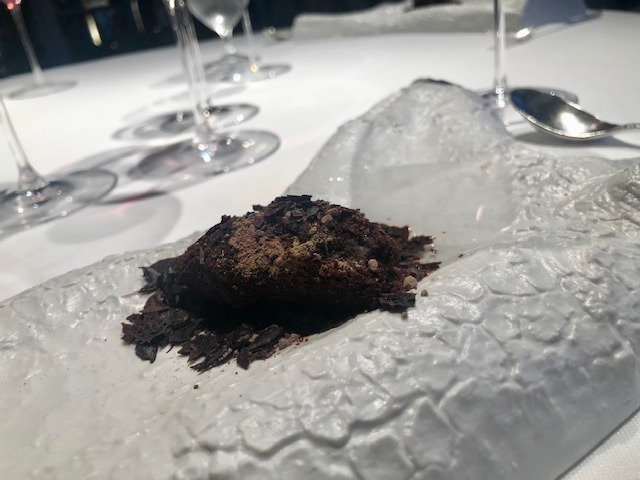 ---
White flower : Elderberry, acacia, orange blossom, soursop, lychee and green apple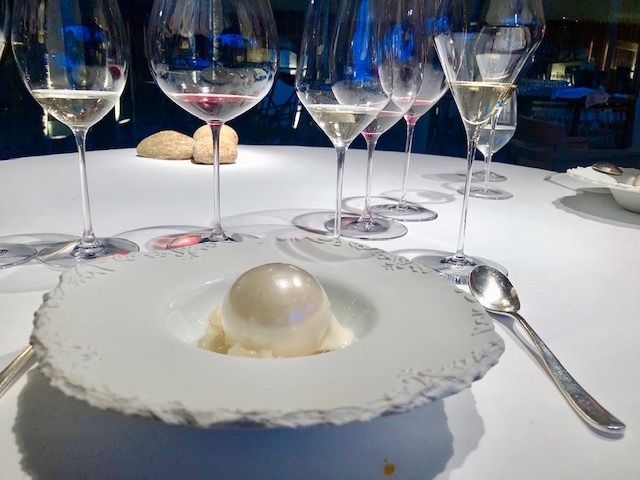 ---
Cocoa bean : Cocoa bean cream with chocolate mousse and an infusion of cocoa bean husk. This is made in the El Celler de Can Roca chocolate workshop with cocoa beans from the indigenous community of the Arhuaco in the Sierra Nevada in Northern Colombia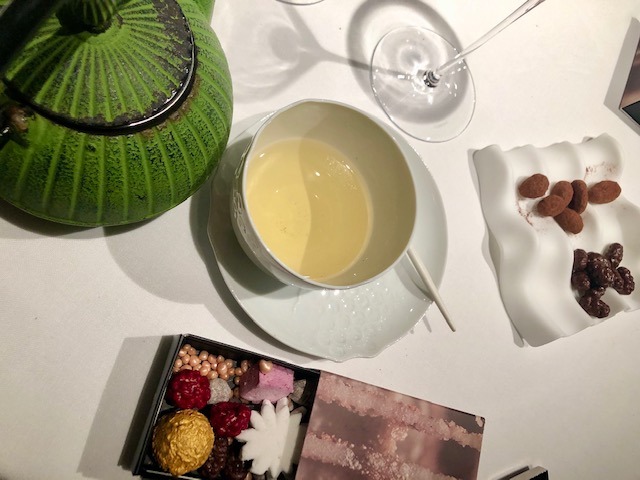 ---
THE WINES AT EL CELLER DE CAN ROCA
The following wines, spirits and coffee choices accompanied our lunch. Each course was thoughtfully paired with a drink. After the meal, we also tasted home-made liquor in the lounge.
Jacques Lassaigne "Les Vignes de Montgueux" A.O.C. Champagne
Albet i Noya El Celler Brut Rva D.O. Classic Penedes
La Garrofera Cervesa Rupestre Ars Natura Liquida
Mestres Mas Via 00 D.O. Cava
Adina 16 D.O. Rias Baixas
Cueva by Mariano Orange 18 Valencia
Vamos, Vamos! 18 Conca de Barbera
Manto de la Riva 17 Vino de Jerez
Blanc Sorra 15 D.O. Emporda
Georg Breuer Nonnenberg 13 Rheingau
Parfas 09 D.O. Penedes
Heymann-Lowenstein Uhlen "L" Terroir Roth Lay 15 VDP Mosel
Finca l'arcata 17 D.O. Montsant
Ossian 17 Vino de la Tierra Castilla y Leon
Vina Tondonia Rosat 08 D.O. Ca. Rioja
Escombro 18 D.O. Yecla
Pintia 04 D.o. Toro
Joh. Jos. Prum Zeltinger Graacher Himmelreich 10 Spaltete V.D.P. Mosel
Sake Katsuyama from Miyagi
Cafe Colombia ; Finca la Colombia, Ciudad Bolivar, Antioquia
Catalina Vasquez Variedad Caturra
Perez Barquero la Canada VORS Montilla Moriles
Read more about the best restaurants in the world in Travelife Magazine.