Would you like to go to Ai Petri?" Tatiana, who worked at Yalta City Hall, asked me. It was a beautiful morning in late spring and I was finally in Crimea. We were in the courtyard of my hotel, finalizing our itinerary for the day. It was my first morning after a journey of 32 hours from my home in Asia to this hotel by the sea in Yalta, and she was taking me to see the best of her town.
ABOUT THE TOWN OF YALTA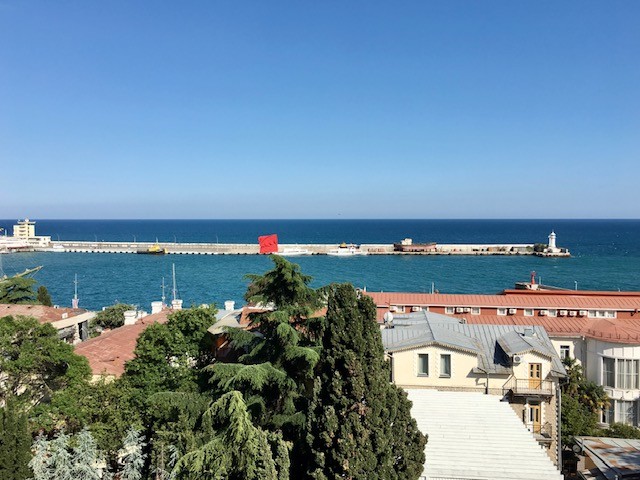 Yalta is famous for being the favorite summer retreat of the last Russian Czar Nicholas II and his family. It's a pretty city of wooden houses, winding lanes and unstructured greenery, with a wide boardwalk that serves as the focal point of its social life. The dramatic coastlines around it are dotted with elegant but dilapidated buildings — remnants of the glory days of Imperial Russia.
MEETING AI PETRI
I thought Ai Petri was one of these crumbling palaces of the Russian aristocracy, off the tourist track, so I readily agreed. It turned out to be Crimea's iconic mountain. Soon we were navigating narrow lanes and hairpin curves with breathless speed as we made our way up to the final base camp of Ai Petri.
Ai Petri turned out to be a dramatic 1234-meter jagged peak overlooking the entire Greater Yalta. It's a beloved symbol for the people who live in Crimea. We parked the car at 800 meters, leaving 434 meters more to climb.
CLIMBING A MOUNTAIN IN CRIMEA
I surveyed Ai Petri with hesitation as Tatiana walked confidently ahead of me. Then, as if she had deliberately given me the time to consider my options, she turned around and said with an easy smile: "Shall we go all the way to the top?"
---
A PRIVATE HACIENDA IS NOW A BEAUTIFUL HOTEL IN SPAIN
---
I'd never climbed a mountain before. Yet there I was, on the first day of my solo adventure into a remote peninsula on Russian territory, heading up to the top of one. It seemed like a most auspicious time to take risks. We clambered over giant rocks and picked our way up through stones and moss. Along the way, we passed children with their parents and groups of grandmothers wearing thick sweaters and headscarves.
HOW TO GET TO CRIMEA
Midway, I was strongly tempted to stop. Suddenly I was tired in every way, especially upon fathoming the 9000+ kilometers and the 1000+ meters I had just undertaken in the last 48 hours to get to exactly where I was on that day. I'd flown to Moscow via Istanbul, and landed in Vnukovo Airport on one side of the city. From there I took I was so far from home and yet so near the summit of an iconic mountain overlooking the Black Sea. But it was this same thought that pushed me forward. I had already come so far. How could I not make it to the finish line?
Finally I reached my goal. It took about an hour of steady climbing, keeping up with Tatiana who obviously had done this a hundred times before. When I reached the summit, I just stood by a rail enjoying an amazing view of Yalta and the coast of Crimea. I couldn't believe I was on top of a mountain in a most exotic place.
This produced serene peace and a joyous elation at having literally conquered the odds of life. It was only noon on Day 1 and already I had reached an unimaginable high in every sense. I did not realize it then, but this was a sign of the many amazing things to come.
---