Few hotels generated as much excitement on opening day as The Peninsula Tokyo did. Back in those days, there was a dearth of luxury hotel openings so a new player in the city was big news indeed. There was also much curiosity as to exactly what type of luxury hotel would occupy that prized piece of real estate at the doorsteps of both the Imperial Palace and the shopping district of Ginza. This small but strategically located plot of land once housed a post-war building with many fond memories for long-time Tokyo expatriates. It is arguably the best location for a hotel in Tokyo.
Fast forward 15 years or so, and The Peninsula Tokyo, with its flawless service and Old World style in a modern ambience, continues to be the hotel of choice for celebrities, top businessmen, and travelers seeking pampering and a stylish base for enjoying Tokyo and Japanese culture.
INCORPORATING JAPANESE DESIGN INTO A HOTEL
Created by noted Japanese architect Kazukiyo Sato and Japanese interior designer Yukio Hashimoto, the hotel is a jewel of Japanese and modern design with a distinctly local flavor. Mr. Sato says he envisioned the hotel as a Japanese lantern standing at the entrance to the Ginza and Marunouchi districts.
And anyone who has visited a Japanese temple will understand the roots of his inspiration. In the courtyard, a raised fountain made of Japanese granite is surrounded by a garden of pine, cherry, and maple trees.
THE ART OF JAPAN
Meanwhile the hotel lobby is a fitting setting for an LED chandelier created to resemble a cloud of hanabi (fireworks), and a beautiful bamboo sculpture of a Chinese dragon by contemporary Japanese designer Keisen Hama.
On the other hand, the hotel corridors were inspired by the narrow alleys of Kyoto. It even has floor lights similar to the lanterns outside teahouses. Then there are the mirrors to symbolize water, and the kimono designs incorporated into the carpets. In addition, approximately 1,000 artworks made mostly by Japanese artists using traditional techniques are displayed throughout the hotel. It's the best of Japanese culture in a hotel stay.
ABOUT THE ROOMS OF THE PENINSULA TOKYO
The hotel has 28 116-square-meter deluxe suites, and we checked into one of them for much needed R&R. These rooms, among the largest in Tokyo, are furnished in neutral colors and earthy materials, with a combination of antiques and simple cherry-wood furniture. Red Japanese lacquer is poured over linen for a textured finish on the work desk,
Meanwhile, Japanese pine and crane designs are woven into the carpet, and the ceiling panels are painted gold over Japanese paper with cherry-blossom patterns.
WHAT'S IN A SUITE?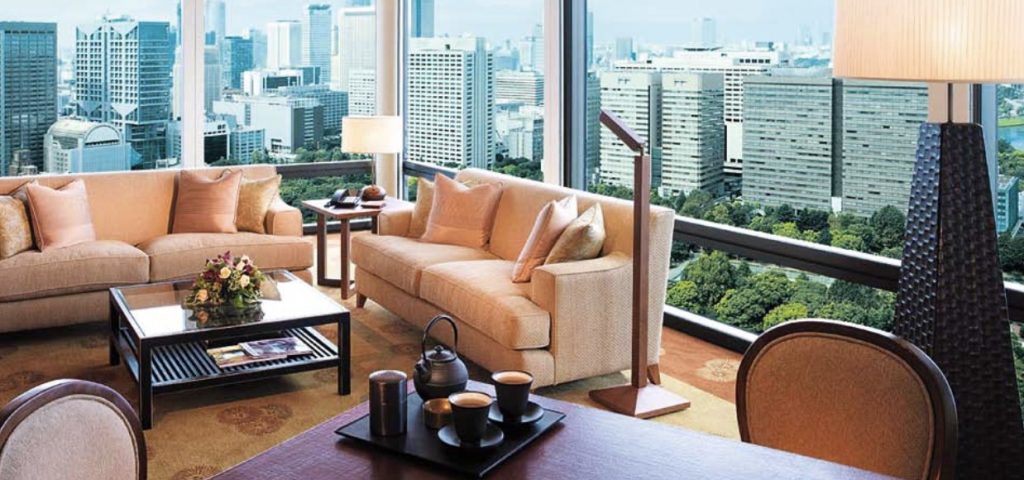 Upon entering our suite, we were immediately impressed by the tranquil setting and the spectacular views. We could see Hibiya Park and the Imperial Gardens from the wraparound windows in the living room. Then, having heard so much about the unique features of The Peninsula Tokyo's hotel rooms, we eagerly inspected every detail.
Many of the room amenities were standard for top luxury hotels. However some stood out as unique to the hotel, including an antique-style telescope, a Lavazza coffee-making unit in the living room, and a nail dryer—yes, a built-in nail dryer—in the dressing room.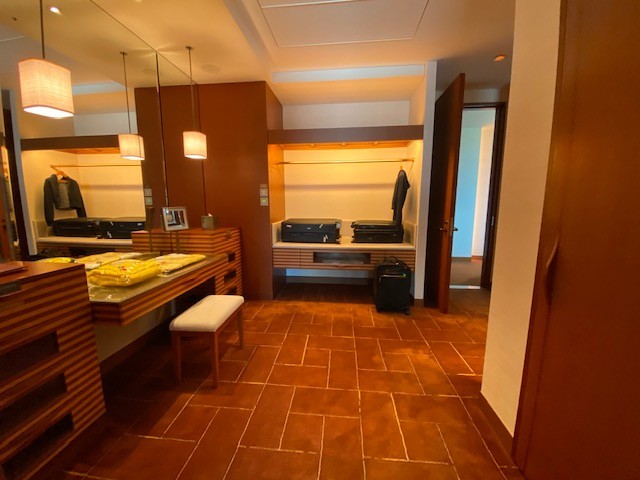 However, the room's most impressive feature is probably the heavy, floor-to-ceiling wooden sliding door separating the bedroom from the dressing room. Made of horse chestnut hewn from a single tree, this door blocked out all noise and contributed to our sound sleep. Being cocooned inside this bedroom was certainly the most wonderful way to forget about the world and the pandemic, even for just a few days.
---
READ MORE ABOUT THE BEST HOTELS IN JAPAN
---
LOCATION OF THE PENINSULA TOKYO
Located south of Yaesu and Kyobashi, west of Tsukiji, and north of Shinbashi, Ginza is named after the silver-coin mint that stood in the area in 1612. Now the district is an upmarket area in Tokyo, known for its numerous department stores, boutiques, restaurants, and coffeehouses. Many luxury label stores reside in Ginza, most notably the Hermès and Gucci flagship stores.
SHOPPING IN TOKYO
Luxury designer boutiques such as Louis Vuitton, Hermes, Gucci, Christian Dior, Chanel, d Prada
Prestigious department stores, many of which are the oldest in Tokyo. The most exclusive is Wako, which is famous for watches, jewelry, porcelain, and handbags.
Mikimoto sells its world-famous pearls right in Ginza, beside Wako Department Store.
The Bulgari Ginza Tower, at 11 stories, is the Italian luxury brand's largest store. There are VIP rooms, a bridal salon, a private club lounge, and a rooftop garden terrace overlooking Ginza. Ito-ya has eight floors full of specialty papers, writing instruments, leather-bound portfolios, and art materials.
---