Christine Cunanan basks in the opulence of Vietnam's most glamorous hotel.
I've stayed in some of the world's loveliest luxury hotels, but nothing so far prepared me for the explosion of color, design and inspirations of the six-star The Reverie Saigon, seven years in the making and Vietnam's most talked about hotel. Simply put, it is over the top in an indescribable way that will almost certainly disorient you at the outset.
A SIX STAR HOTEL
The Reverie Saigon is Vietnam's take on a modern Versailles
This hotel has such an incredible variety of decor and accent pieces that you do not know where to look first. A multi-colored artsy chandelier of glass flowers and crystal covered pendant lights is literally sprawled on the ceiling of the ground floor lobby, which incidentally is decked out in blue and white Italian marble and intricately inlaid walls.
Then just off the lobby are elevators, covered floor-to-ceiling in amber, that take you up to the reception floor where antique clocks, two-storey high mosaic masterpieces, and the largest sofa seat I have ever seen – ornately carved, gilded in gold and upholstered in purple velvet – await.
This is just the tip of the iceberg, too – to use a cliché. There are modern art pieces, classical antiques, Chinese furniture, whimsical sculptures, ornate décor, contemporary objets d'art, and even a touch of Islamic influence all in one place. Oh yes, and wherever I looked, I saw gold in all forms, surfaces and textures.
This is Vietnam's version of a 21st century Versailles – except it's open to discerning travelers willing to pay for the experience.
INSPIRATION FROM EVERYWHERE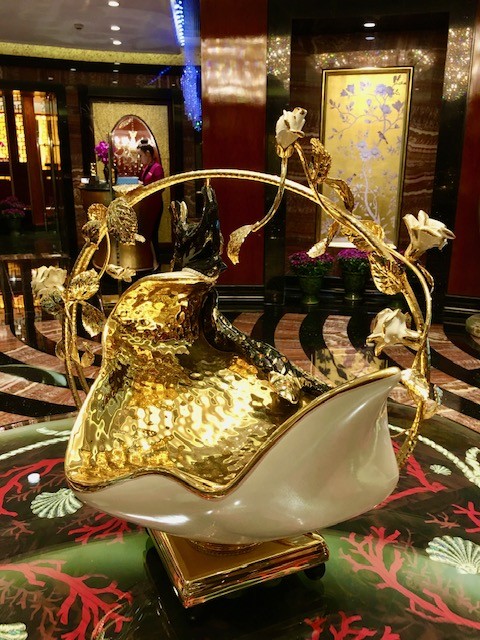 "This must be the work of a designer gone mad," I told myself, literally unable to keep my jaw from dropping as I walked to the counter at one end of the cavernous hall to check in. "Or, actually, it's probably the work of a dozen designers gone mad."
Disunity figured everywhere I looked. There were influences from every period and school of design – much of it from Italy, albeit in different styles — so that initially it really did look like a collaboration between designers who did not actually work together.
Later on, I realized that I was not too far from the truth, as the hotel is also a showcase for the works of 13 Italian design firms including Giorgetti, B&B Italia, Baldi, Cassina, Grifoni, Visionnaire and Colombostile.
Of course, this visual feast was quite disconcerting when I first walked into The Reverie Saigon, especially as I am more used to hotels and resorts with sleek and seamless designs that are ever so easy on the eyes.
CONCEPT OF LUXURY
The reception that boasts of a riot of color palettes and textures
Interestingly, this seeming lack of a concept was actually a concept in the end, and it worked like a magic potion. It took me several hours to get used to the deliberate haphazardness of design; but once my eyes grew accustomed to the blaze of styles and colors, I ended up loving it.
I don't think I'm ever going to redecorate my home as a result of these influences; but for a few wonderful days staying in the hotel's club floor, I was pampered beyond anyone's imagination, enjoying an amazing multi-sensory experience unlike any other. And isn't that really what a holiday should sometimes be about?
ROOM WITH A VIEW IN SAIGON
Yes, as soon as I warmed to this daring combination of art gallery and beautiful jewelry box, I thoroughly enjoyed it, and I would stay there again in a heartbeat. The Reverie Saigon is a magical palace and a fantasy come true, with the added bonus of having excellent restaurants, a wonderful spa, and some of the best hotel rooms in Ho Chi Minh.
The panorama deluxe room I stayed in is one of the best rooms in the hotel. It's not a suite, but it's a large corner room that's spacious and beautifully done in a more subtle mix of inspirations compared to the splash of bold colors and creations in the public areas.
Dainty Oriental scenes are actually handpainted on the walls that line the long corridor from the door to the bedroom proper where a Regency-style desk and an Empire-style standing chandelier are situated next to floor-to-ceiling windows framed with red velvet curtains.
My bedroom, placed against a wall of mirrors, faced the wraparound windows and this was truly the piece de resistance. As soon as I awoke every morning, you see, still in bed I would press a button and the curtains would part like the Red Sea, revealing the best views of Ho Chi Minh right before me. I ordered room service for breakfast on most days; but in reality, this view was the main course.
THE BEST SPA IN HO CHI MINH
Dubbed as Vietnam's most luxurious city spa, The Spa at The Reverie Saigon is the combination of urban luxury amidst a European-inspired retreat with a touch of the exotic.
This two-level 1200-square meter spa offers Vietnamese, Asian and Western beauty and relaxation treatments in impeccably done private rooms with leather-clad walls and Earthlite spa beds.
One of their most popular signature treatments is the Five Elements by Ila, a relaxation treatment for the body and mind that includes a Tibetan and oil massage, a hot stone session, and a hot poultice compression.
IT'S ALL ABOUT SERVICE
Aside from the upgrade in furnishings, you might be wondering what exactly differentiates a six-star hotel from a five-star hotel. For me, it's the service, and The Reverie Saigon certainly goes way past the six star mark in this aspect. Once you have experienced a weekend of R&R here, living a Travelife, you will never be the same again.
Everything was wonderful at The Reverie Saigon, but the best service I had was at the club lounge, a massive room in gold and white where breakfast, afternoon tea and cocktails are served. I often went here for a caloric treat because the savoury and sweet delights they offered with tea every afternoon were served so prettily in a designer tray.
Dining at the royal pavilion
Overlooking the picturesque Nguyen Hue Boulevard, The Royal Pavilion is known for its delicious dim sum, including baked barbecued pork puff buns, steamed red rice roll wrapped with crispy bean curd & shrimp, and mango pudding with sago & pomelo.
Signature à la carte dishes offer a lavish culinary journey through China's most popular cuisines, with delicacies that include braised imperial bird's nest soup, honey-glazed barbecued pork, and the restaurant's signature crispy tower of deep-fried shredded taro & peanuts.
It was also after tea here one day that I had a truly memorable six-star experience at The Reverie Saigon. It was just after 4:00pm when I'd finished so I thought about heading to a nearby shopping mall to pick up some souvenirs to bring home.
"Where is the nearest shopping mall that I can walk to?" I asked the lounge staff. Central Ho Chi Minh is compact and easily navigable, after all.
"There's one that's just under a ten minute walk away," one of the ladies replied.
Just as I was planning to get a map and find my own way to the mall, this same lady offered: "If you are planning to walk to the shopping mall, we can get one of our staff to accompany you so that you can easily find it. He can also wait for you so that you will not have problems coming back."
So I accepted their kind offer to have the butler walk with me until the shopping mall, and fortunately so, I later realized, as Ho Chi Minh's dangerous combination of narrow streets and bikers on speed takes some getting used to.
But I decided to be adventurous and just find my own way back. I realized it wasn't difficult at all. When I exited the mall about an hour later, all I had to do was look up across the sky. In the distance, there was The Reverie Saigon standing tall atop the iconic Times Square Building, so easily distinguishable from all the other buildings in that Ho Chi Minh skyline – and not just for its amazing designs.