We had just arrived at the MalaMala Game Reserve in the Sabi Sands of South Africa, and that same afternoon, we set out on our first game drive.
"What would you like to see?" Craig, our ranger asked, before we set off along the rocky path that led across the river. We planned to drive away from the lodge towards the border with Kruger National Park. The MalaMala estate consists of thousands of kilometers of privately owned bush land filled with wild animals.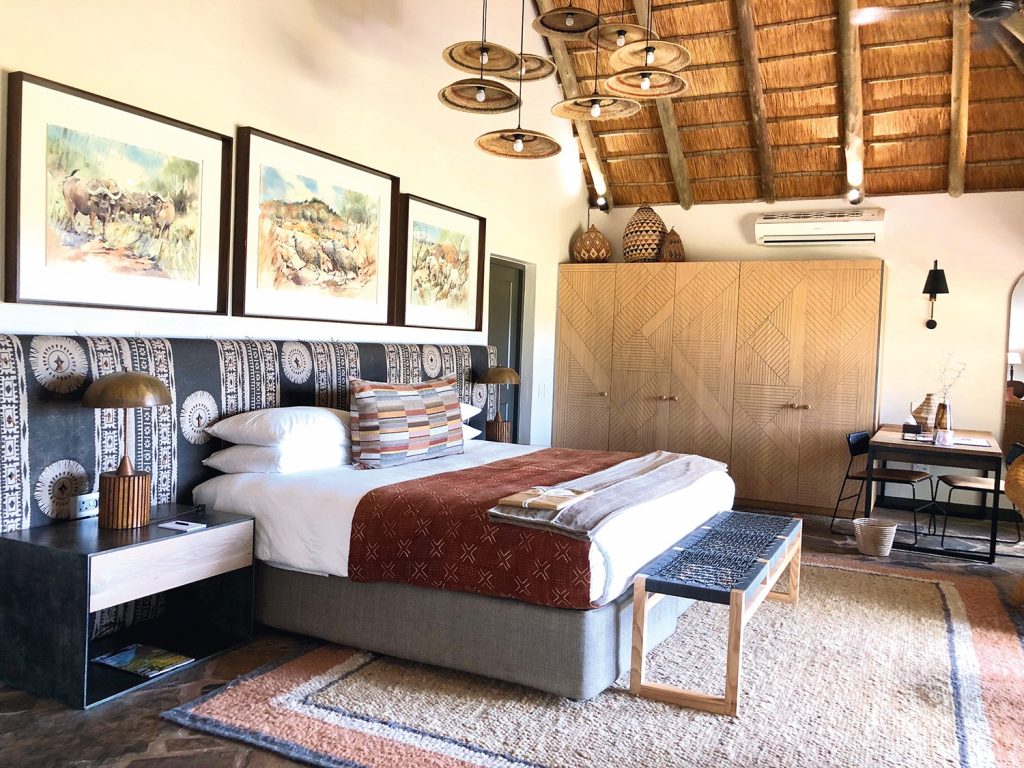 GAME DRIVES AT MALAMALA
MalaMala is famous for its animal sightings so I immediately went for the gold. I said: "The Big 5 and the leopards. And especially the leopards."
Craig smiled confidently. He probably received this request often from eager holidaymakers. The Sabi Sands is one of the most famous private game reserves for viewing the Big 5, after all. Within this area, MalaMala is especially well-known for its leopard sightings.
HOW TO SPOT A LEOPARD ON SAFARI
I myself was fairly sure we would get up close to the leopard sometime during our three-day safari. It was just Day 1 and we had six game drives to go. At three hours per drive, that was at least 18 hours of searching for animals. And leopards never really stray far from a favorite home.
Admittedly, there were some challenges. It was late summer and the grasses were tall and greenery was abundant. This actually gave MalaMala an ethereal atmosphere of prettiness. It was like driving through paradise with the colors, smells, and sounds rushing past me. However this also made animal sightings harder.
TOP ANIMAL SIGHTINGS IN SOUTH AFRICA
To our surprise, we bumped into our first leopard that same afternoon. He walked nonchalantly out of some tall bushes in front of our parked jeep without even a glance at us.
We followed him breathlessly on his stroll around a pond before finally losing him to the darkness. Perhaps he was looking for prey or a place for the night. Elated, we headed back to the camp. With such success, we were ready to celebrate with a really good dinner.
LARGEST SAFARI PROPERTY
It was low season but Sable Camp had four other couples enjoying a three-course meal on the terrace that night. We all compared notes on what we'd seen and why we'd chosen MalaMala out of all the amazing nature holidays in this world.
Everyone had been lucky with the Big 5. In fact, two out of five tables had seen the leopards so far. As for the reasons for choosing MalaMala, one of the guests explained its advantages most accurately. "MalaMala has the largest property and a river runs through most of it. That's like a magnet for animals," he said.
THE BEST LUXURY SAFARI LODGES IN AFRICA
Some luxury safari lodges are all about the complete experience, and animal sightings star in this movie set in the wilderness. They offer champagne sundowners, rose petals in the bathtub, and gourmet meals.
Some travelers want to star in their own version of Robert Redford's Out of Africa, so there is a market for safaris with these scenes straight out of Hollywood.
Then there are other lodges mainly focused on the wildlife. Here, the animals are clearly the superstars and the guests are just the temporary extras in this never-ending story. These game reserves strive to bring guests into their sanctuaries in as comfortable and yet also as natural as possible. So guests are happy but the environment and the animals are never disturbed.
MalaMala firmly belongs to the latter. In fact, it's the gold standard for upmarket lodges that straddle the fine line between nature immersion and entertainment. I like to call it the real safari lover's safari.
Read more about safaris in Africa in Travelife Magazine.