Too much typing on my computer and texting on my phone had brought about a severe case of stiff shoulders. Fortunately I was staying at the Park Hyatt Tokyo so first aid was just a few steps away. The Spa on the Park offers a wide range of treatments, including a proper head and shoulder massage.
It was the time of COVID-19 and not a few people are loathe to enter sports clubs and spas. However, I'd been doing so quite frequently since June, and the best hotels in Japan all have excellent safety procedures in place so as not to worry guests.
This definitely included the Park Hyatt Tokyo, which I noticed had among the best quality masks for their hotel staff. They also had hand sanitizers and temperature checks everywhere. For instance, I got my temperature checked to enter the hotel, and then again to enter the spa and to have dinner at the New York Grill.
So I booked my head and shoulder massage without hesitation.
ABOUT THE PARK HYATT TOKYO
Now hotel aficionados already know that the Park Hyatt Tokyo changed the landscape of the hospitality industry when it opened in the late 1990s. Until then, there was no hotel in the world offering ultra luxury in a stylish and yet contemporary high-tech way, It broke the mold in many other ways too. All its restaurants offered unique dining experiences amidst high ceilings and lots of space, and yet intimacy and detail never suffered.
The same is true of the spa, which became famous in Japan for combining Western aesthetics with the Japanese sento (public bath). Again, until the Park Hyatt Tokyo came along, no Western luxury hotel in Asia had put a public bath on top of a skyscraper with views, adorned it in beautiful stone and called it a spa. I went to see and use it when it first opened and it was truly the most gorgeous spa in Japan that I'd ever seen.
HOW SOME THINGS SHOULD NOT CHANGE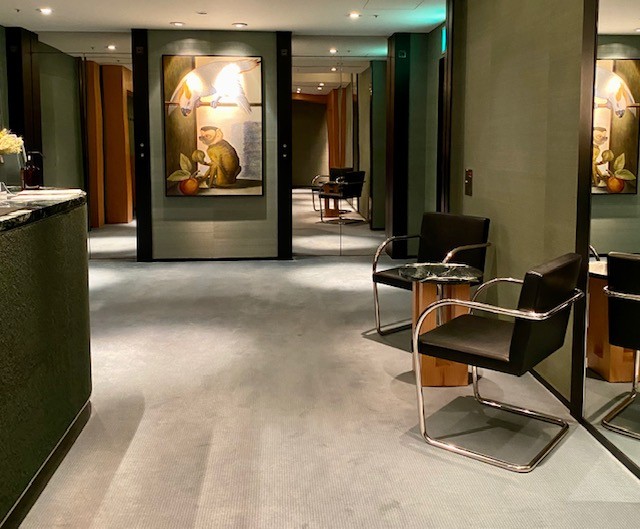 Well, this beautiful spa has remained exactly as it was when it first opened. This is no mean feat, especially in a world where innovation and novelty have become the norm. This landmark spa was still the same over two decades later.
I checked into the spa 30 minutes prior to my treatment so that I could use the facilities. It has this lovely marble hot pool in the center of the spa and a cold pool right next to it. Thus, contrast therapy followers like myself can alternate in hot and cold pools to their hearts' content. The spa also has sauna and steam rooms.
DRESSING ROOMS WITH A VIEW
I also love the dressing rooms. Again, these dressing rooms — sleek wood set right by the windows so spa goers could change with Tokyo in the background — wowed the world back then. It was nice to see them still there and actually looking as new as ever. This just goes to show that good designs are truly timeless.
One of the few things that has changed in this spa is an excellent one. The Spa on the Park offers a wide variety of treatments and it mainly uses three brands for skincare and wellness. One of these is Omorovicza, a cult skincare brand from Budapest that's known for chemical-free ingredients of the highest quality.
---
READ ABOUT THE SUITE WHERE THE MOVIE "LOST IN TRANSLATION" WAS FILMED
---
THE BEST HEAD AND SHOULDER MASSAGE
The therapist used one of the Omorovicza range of oils on my shoulders for her wonderful head and shoulder massage. Apparently, I am not alone in suffering from this 21st century affliction, brought about by an excessive attachment to one's computer and mobile phone. This had resulted in a rigidly in my shoulders, neck and jaws; as well as a dull pain in my head that never quite seemed to go away.
"You need to loosen these parts up," she told me, as she worked her magic. This is the other good thing about spa treatments in the world's best hotels. These are expensive but you do get what you pay for. The therapists at the Park Hyatt Tokyo — I booked two treatments — were just excellent. In fact, this was probably the best head and shoulder massage treatment I've had in Tokyo.
I left the spa feeling brand new, which was rather ironic, considering the spa was approaching 25 years old but it had not changed even a day from what I remember of it. Now if only all of us could age this gracefully.
Read more about the best hotels and resorts in Japan in Travelife Magazine.
---