Palamos is a pretty little town along the coast of Catalunya heading towards France. It"s about 90 minutes from Barcelona, making it a nice and relaxing day trip away from the crowds and enjoying the dramatic landscapes if the weather is fine.
Fortunately, the weather was perfect on the day I visited. Sunshine and warm temperatures all day, and almost no wind. The perfect day for a sail, as people who love boats might describe it, and so this is exactly what I did.
A DELICIOUS WAY TO TRAVEL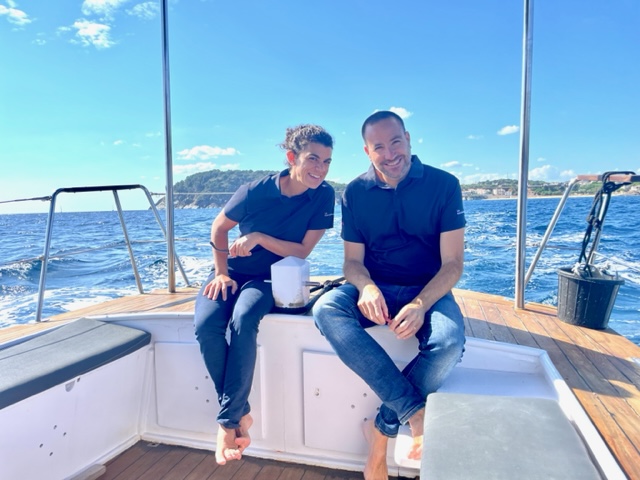 Jaume and Clara, a couple who live in the area and run a food experience company called La Gastronomica, met me by the beach. "Let's go for a walk first," said Clara, "and while we're enjoying nature, Jaume will prep the boat and then pick us up somewhere."
That sounded like a wonderful plan, especially as I was up for anything. Clara and I walked along a hiking trail for around thirty minutes, and I gazed in disbelief at some truly lovely houses, including a handful that reportedly served as summer escapes for Hollywood celebrities and world-famous artists.
CELEBRITY HIDEAWAY IN CATALUNYA
"Ava Gardner once stayed in that house over there," Clara said, pointing to a pretty estate in a quiet area facing the sea. She added: "Truman Capote also reportedly spent summers in that villa."
Interestingly, these mansions seemed to co-exist quite happily along the coast, separated by a forest or mountain, with simple fishermen's cottages and beach shacks.
Pretty soon Jaume appeared on the horizon in a wooden boat, kitchen equipment and food supplies all loaded for a long and liquid lunch. We took off our shoes and walked into the sea to clamber up the boat. And then we were off.
LOCAL FOOD HITS ALL THE RIGHT SPOTS
As we sailed out of the cove, Clara opened a pack of anchovies and cut some local cheese. "We try to serve everything fresh or from around here," she said, as Jaume placed a plate of shrimps in front of me. Pointing to the new arrival on the table, she added: "These shrimps were just caught this morning." Aaah. These were the famous Palamos prawns I had been hearing about.
Clara is also a sommelier, so she had several bottles of local wines ready for pouring. We laid out the glasses and the cutlery in a very casual way, and the conversation stopped completely as I savored the culinary delights of Catalunya.
WHERE TO EAT IN PALAMOS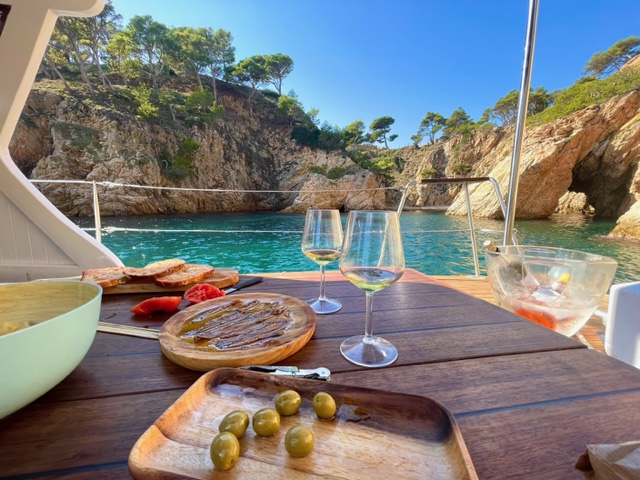 Everything was delicious. And, the palate of Clara and the cooking skills of Jaume aside, I'm sure our picturesque surroundings had a hand in the upping the lunch experience. By that time, I'd had two glasses of local wine picked by Clara specially to complement the lunch, and I'd practically finished all the starters. The anchovies were wonderful and I swear I could still taste the sea on those freshly caught shrimps that were grilled in front of me.
THE BEST ARROZ IN CATALUNYA
Little did I know that the best part was yet to come. While I was busy tasting the best of Palamos, the best rice dish in the whole of Catalunya — at least that's what I reckon after two huge platefuls — was being cooked by Jaume in the tiny galley kitchen next to me.
I had few expectations, actually, considering he had about half an hour to get his act together; and somewhere in those 30 minutes, he also managed to join Clara and I for a toast and dance to Sebastian Yatra's song Tacones Rojos, one of my favorite pick-me-up songs and a 2021 pop hit in Spain.
Madre Mia, as they say in Spain. The arroz was amazing — whatever he put into it. When I asked him exactly what the magic was, he simply shrugged his shoulders and pointed to the sea. "Everything fresh from this morning," he replied, "that's probably the key."
PERFECT SWEET ENDINGS
We lazed around a bit in the cove as it was a crime not to do so after such a good lunch. In fact, I almost fell asleep on some comfortable cushions, lulled by the gentle breeze and the mild sun, when Clara called me to have some dessert.
No, it was not a chocolate cake baked in the tiny kitchen galley while I was half awake. There were still some limits to Jaume;s cooking prowess in tight spaces. But actually what they prepared was better. Clara opened a brown paper bag and inside were warm and sugary bunuelos that were made by Palamos' favorite baker that same morning. Simple and simply divine, both the dessert and the entire experience of sailing and lunching with locals off the coast of Catalunya.
And even now, I am still thinking of that incredible arroz. Even just for that, I must find a way to return to Catalunya soon.