The all day dining restaurants of hotels never usually inspire poetry or flowery phrases from people who take food seriously. After all, this is what the specialty restaurants are for. As far as most foodies are concerned, all day dining restaurants are for casual breakfasts, afternoon coffees, and a quick meal at odd hours.
Or so I thought, until I had dinner at Mountain Lounge at the Park Hyatt Niseko Hanazono. This massive luxury hotel actually has 11 restaurants in place. Unfortunately, we stayed during the time of COVID-19, so only 50% of the hotel was operational — as with many other hotels.
HOW TO BE LUCKY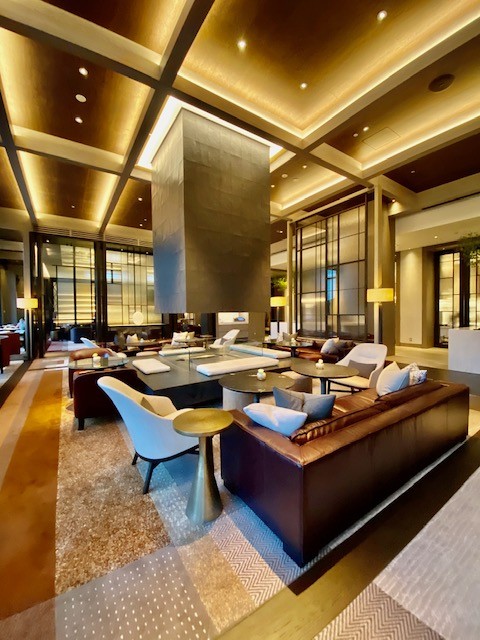 We ended up at the Mountain Lounge because we had exhausted all the other operational restaurants during our stay. How fortunate we were, that this was the case. What began as a half-hearted attempt to eat something before the end of the day turned into a real gourmet delight.
WHAT'S IN A JAPANESE DINNER
We found a nice table by the window and quickly scanned the menu. Interestingly, there were many Japanese options. So we opted for a Japanese dinner set that came with traditional appetizers, sashimi, and a plate of Hokkaido beef.
Everything was delicious. In fact, we asked ourselves how an all-day dining restaurant could create a Japanese dinner as good as this. The answer was simple.
ALL DAY DINING AT ITS BEST
Executive Chef Steffen Gube has an eye for perfection and this is apparent in every dining aspect at Park Hyatt Niseko Hanazono. Meanwhile, Hidekazu Kato, the Japanese chef, masterfully creates exquisite dishes by combing excellent ingredients and beautiful plating. It was almost as if we were eating in a kaiseki restaurant instead of an all-day dining venue.
The meal began with a lovely leaf. Right in the middle of it was a dollop of consommé which we were asked to slide down into the bowl of jelly, cod roe and seaweed below. It was a wonderful and most aesthetic start to dinner.
HOW TO CUT AND SERVE SASHIMI
Next came a plate of masterfully cut sashimi. Of course, every self-respecting Japanese restaurant serves sashimi. So you will be forgiven for thinking this is quite an ordinary item on the menu.
In one way, it is. However, the art of serving sashimi is way more complicated than cutting up raw fish and arranging slices on a plate.
According to the Chef Kato, the sashimi on the menu were all sourced locally from trusted suppliers. There is a big difference between good quality sashimi and poor quality ones, and sushi lovers can tell the difference in a minute.
HOW TO CHOOSE THE BEST FISH
The skill to choose good fish for sashimi is one of the traits that differentiate a great sashimi chef from an ordinary one. Moreover, in this case, the fish were sliced perfectly so as to avoid toughness. Slicing is an art and the best sushi chefs know exactly where to cut to present the fish at its best.
Then, the last part involves plating and serving. Aside from arranging the food like art on a piece of pottery, the chef must send it out at exactly the right temperature. Mediocre chefs will often send out a platter too cold.
TEMPURA & OCTOPUS
The other courses that followed were equally delicious. We had all the requisite dishes. A little tempura to start, followed by a plate of stewed sliced octopus.
MODERN VERSION OF SUKIYAKI
Then came the piece de resistance. The chef sent out a deconstructed sukiyaki. He sliced Hokkaido beef, which I believe is so underrated and it's truly my favorite, with a hint of sauce and some egg foam. It was heavenly.
BOTTARGA WITH RICE
Just when I thought the climax had already happened, Chef Kato sent out the requisite rice and pickles in a style that made my jaw drop. He placed shavings of bottarga on the rice and added the traditional Japanese spice leaf as accent.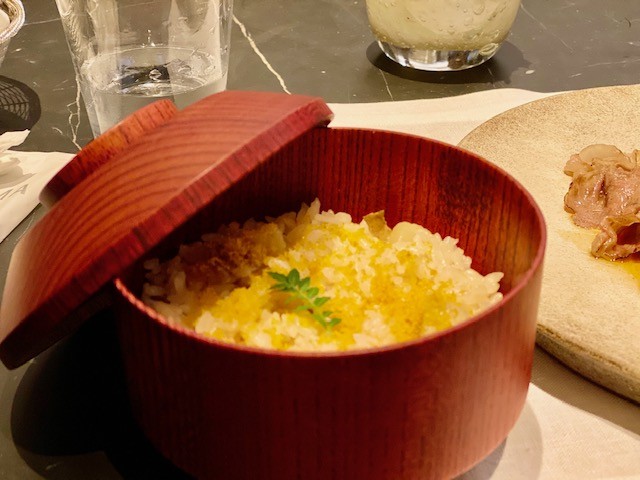 The food was so good, and this I do not say lightly because I eat well almost every day of my life. When Chef Kato finally came out to say hello after the meal, I asked him how he had come to cook so well. In typical Japanese self-deprecating fashion, he replied: "Hokkaido has excellent ingredients and we have trusted sources for supply. So it's not difficult to make good food here,"
---
READ ABOUT THE BEST NEW HOTEL IN SPAIN
---
WHAT DREAMS ARE MADE OF
Well, everything we ate at the Park Hyatt Niseko Hanazono was truly delicious. The dinner at Moliere Montaigne, considered one of the best restaurants in Hokkaido, is worth writing a novel about. As are the Pierre Herme cakes and soft cream sundaes. But I never imagined that I would be happily dreaming about food from Mountain Lounge, the all day dining restaurant of the hotel.
Read more about the best hotels and resorts in Japan in Travelife Magazine.