The joys of renting a holiday villa with a housekeeper and a caterer should never be underestimated. It's nice to go to somewhere new for an adventure, while basing yourself in a lovely house. However, having meals prepared every day by a professional team, who will also clean up afterwards, enables everyone to truly relax.
RENTING A VILLA IN HOKKAIDO
We booked the Chalet Mizunara of Elite Havens Luxury Villa Rentals and Management at the end of our two-week stay in Hokkaido amidst the COVID-19 pandemic. It's a lovely four-bedroom house in the area of Hirafu, which is popular among tourists.
The villa comes with housekeeping services and prepared meals are offered as an option, which we gladly took. So every day, we had the delicious task of choosing what we wanted for breakfast and dinner from a wide variety offered by the Niseko Gourmet Catering company.
WHERE TO EAT HOKKAIDO CRAB
Upon arrival, for instance, we suddenly were inspired to eat crab. Hokkaido is famous for its crab, after all. So I messaged the Elite Havens team: "Can we hire a chef to prepare Hokkaido crab for us for dinner on our first night?"
As it was short notice, the chefs of Niseko Gourmet were already all booked for catering jobs at other villas. However, Therese of the Elite Havens team replied: "We can't send any of our chefs as they've all got other jobs that night. But we can send over Hokkaido crab and seafood for shabu shabu. We'll bring it over and set everything up. How does that sound?"
It sounded perfect. So we arrived at the villa mid-afternoon and at 6 PM, the Niseko Gourmet team was at the Mizunara Chalet to set the table and prepare the food. All we had to do was sit and eat. And, of course, it was delicious.
---
READ ABOUT THE VILLA WITH A VIEW IN NISEKO
---
CHICKEN RICE FOR BREAKFAST
That same night, before leaving us, Annie from Niseko Gourmet asked me: "What would you like for breakfast?"
I replied, on a sudden inspiration: "Chicken rice, please!"
This is one of the choices on offer for breakfast and it happens to be one of my favorite foods in the world.
Well, when we woke up the next day, Annie was already busy in the kitchen preparing our chicken rice breakfast. She brought all the ingredients in a large box and made our food from scratch.
---
READ ABOUT THE BEST NEW HOTEL IN SPAIN
---
WHAT'S COOKING IN THE KITCHEN
Before going out on a short walk around Hirafu, I peeked at what she was cooking. Chicken was boiling in a large pot and fragrant rice was already in the rice cooker. There was even roast pork in the oven as an extra dish.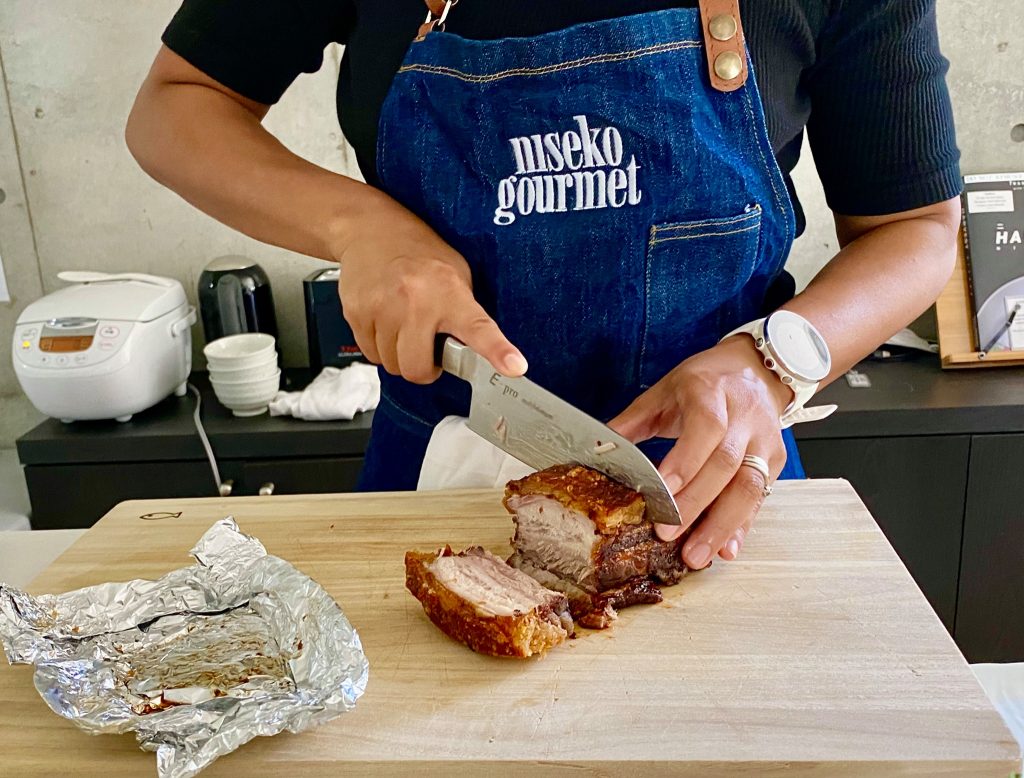 When we returned to Mizunara Chalet, our breakfast was ready. It was brunch, really. And it was among the best chicken rice I've ever tasted. As for renting a holiday villa with delicious food prepared for you every day, well, that is true luxury as far as I'm concerned.
Read more about the best hotels and resorts in Japan in Travelife Magazine.