It was a great start to a visit to the less trodden region of Aragon in Spain. I'd landed at Barajas Airport in Madrid at 1030 AM on the Turkish Airlines flight from Istanbul, and by 2 PM I was having lunch at the Finca La Estacada. This winery in the region of La Mancha has a stylish restaurant on the premises. Having had four inflight meals in 18 hours on the flight from Asia, I was not exactly hungry. But when I saw the menu, I knew I simply had to eat.
JAMON BELLOTA AND MANCHEGO CHEESE
So I began my first proper meal in Spain in the manner of every self-respecting Spaniard. We ordered a platter of Jamon Bellota, which is considered the best ham in Spain. We also asked for a platter of assorted Manchego cheese and a bottle of delicious local wine.
"We are in La Mancha," said Jorge, my guide for La Mancha and the lovely city of Cuenca, where I was billeted for three nights at the Parador de Cuenca. "La Mancha is famous for Manchego cheese, so we must have it.
DIFFERENT KINDS OF CHEESE
Soon, the waitress brought a pretty platter of Manchego cheese in a variety of flavours and sources. There was cheese from cow and sheep, but also cheese flavoured with black garlic. Apparently, black garlic is a local specialty of the region of Aragon. Everything was wonderful, especially with the pan con tomate that is served automatically at many good restaurants.
IBERICO PORK AND DRY AGED STEAKS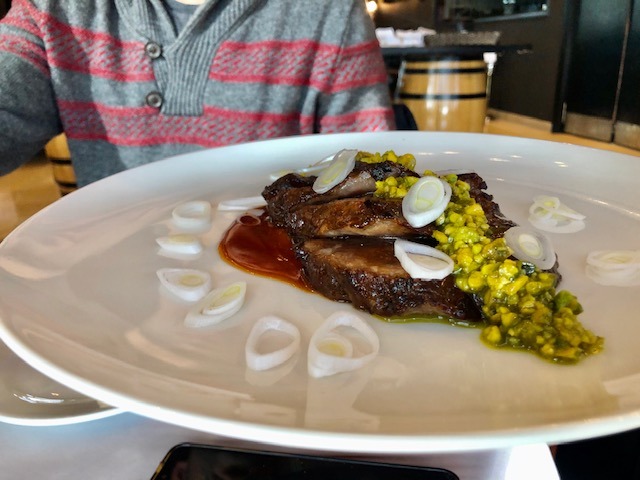 For the main courses, we decided to order everything that looked good and then just share. So I chose the Iberico pork which I consider the tastiest pork in the world.
I also ordered a dry aged steak since Spaniards are quite proud of their beef, and the waitress showed us some hefty cuts of beef that I could not say no to. This was very good, especially with the nice bottle of full-bodied red that we ordered from the winery adjacent to the restaurant.
A SPANISH RICE DISH
Finally, to end the meal, I chose a rice dish with langoustines because once I'd had an amazing version in a tiny restaurant in Madrid, and I'd been wanting to eat this again ever since.
No, this rice dish isn't a paella. In fact, in this part of Spain, I noticed that typical Spanish dishes known worldwide such as paella and callos don't appear on the menus. Instead there are dishes like rice with langoustine and heavy stews of meat, potatoes and beans.
The rice dish was simply amazing. It arrived in a large cauldron, full of soup, with bits of rice and entire langoustine bobbing up and down. We each had a bowl from the cauldron. The rice was perfectly cooked so it was neither soft nor hard, and the soup stock seeped into the rice so nicely that every spoon was a mouthful of goodness.
"We order the rice last because otherwise we'd be full from the beginning of the meal," Jorge explained. "And this rice is really excellent."
SWEET WINE TO END LUNCH AT FINCA LA ESTACADA WINERY IN LA MANCHA
With all the food we'd ordered, you'd think dessert would be the last thing on my mind. But I can never resist desserts in good restaurants. And here, there was an amazing cheesecake made from a special cheese. It wasn't sweet at all but it was firm and flavourful. And it went perfectly well with the glasses of sweet wine that the waitress brought us to accompany the meal.
"How was lunch?" Jorge asked, as we left the warmth of the restaurant and headed back into the winter cold to drive to Cuenca. "The Finca La Estacada is really one of the best restaurants in this area."
"It was amazing," I answered. "What a start to my trip around Aragon." Then I added: "Although if I keep eating this way for the next few days, I'm probably going to bring home ten additional kilos." And I didn't mean the luggage.
Read more stories about traveling around Aragon in Spain in Travelife Magazine.