"How big is this suite?" I asked Michael Chen, Co-CEO of H2 Group, the company that developed and manages HakuVillas, lodging of choice for the world's high flyers in the ski resort town of Niseko. I had just checked into HakuVillas for a snow holiday and he was giving me the grand tour of the super penthouse suite which has eight bedrooms spread over three floors.
We were standing in the entrance foyer of Villa 888, just outside the private elevator entrance. To the right was the private dining room and kitchen and to the left was the modern Scandi-style living room. Somehow it reminded me of Iceland although I don't think Iceland has a hotel suite as glamorous as this anywhere on the island.
The living room has a massive television and fireplace, a white Eames chair and the kind of curvilinear sofa you expect to see at a celebrity's home that's both cozy and jaw dropping. But this one comes with double views of Mount Yotei and Mount Annapuri, which are Niseko's million yen views. You can't miss the floor-to-ceiling wine cellar either, stocked with some of the world's most name-droppable wines.
Meanwhile, in front of us was a massive outdoor hot springpool (a proper onsen by Japanese standards) on the terrace. It was built with natural volcanic rocks and has a full-on view of Mount Yotei. It was large enough to have anin-pool cocktail party, which I suspect some guests do.
It's perfect for entertaining all the other ski buddies who have descended upon Niseko for the full house ski seasons of Christmas holidays and winter school term breaks. And It's certainly the best place to spend New Year's Eve. One guest booked the entire building for New Year and had everyone dining in the penthouse and then on the terrace at midnight, with full view of the fireworks from the Grand Hirafu slopes.
"This is 600 square meters," Michael replied, and actually it felt larger than that. I actually got lost on the lower floor, somewhere between the bedrooms, the sauna, the two spa treatment rooms, and the nanny rooms. This is the wellness floor vis-a-vis the entertaining floor and the top floor for the master of the house with it's Mancave hideaway.
ABOUT HAKUVILLAS IN NISEKO
Since it opened, HakuVillas has been the talk of Hokkaido's hospitality industry. Everyone holds it in awe both for the boldness of its interiors and of its pricing. There are not many seven-figure fully-serviced villas in these parts, after all.
LUXURY IN NISEKO

Considering it only has four villas and it's just under fifteen months old, the fact that HakuVillas has been a trending topic in the last 12 to 18 months is quite an impressive achievement. But here's a short backgrounder. Until some years back, Niseko was basically an Australian backpacker's paradise and "luxury" was not in the vocabulary. The fairly recent arrival of high-end hotel companies has quickly changed the scene and dramatically so, and HakuVillas of the H2 Group is right at the top of the mountain.
The gap between the kind of foreign tourists arriving in Niseko — skiing is a very expensive sport after all — and the quality of lodgings then was not lost on astute businessmen like Michael. Thus, the Haku concept of hospitality was born.
The villas are true gems designed to impress guests and holiday makers who have already been there and done that. Each one ends with the lucky 88 — so you have 588, 688, 788 and the prized 888. The units come with their own team of private butlers, chefs, and drivers. So practically every wish is granted if you can afford this level of pampering. Prices for the full-floor units, which are 300 square meters plus its own private, outdoor hot springs pools on the terraces, start at JPY 1.6 million yen (approximately US$16,000) per night. They basically mirror the penthouse suite minus two floors, including the coveted wellness facilities. Pre-pandemic, these were very much in demand.
The penthouse we were standing in is an entirely different story. In fact, it's in another league altogether in terms of size and price. And when I say another league, I don't just mean the island of Hokkaido. This penthouse, which Michael reckons is the largest hotel penthouse unit in Japan, rents out for JPY 3 million yen (approximately US$30,000) a night. Even in expensive Japan, this is pricey by anyone's standards.
NO DISCOUNTS IN HOKKAIDO
"We may be the most expensive in Hokkaido but our service and experience curated for our guests is second to none," Michael added. Indeed, many people seem to think the high price tag is worth it, especially with the stylish high tech interiors and the full-time staff on-hand for everything from a hot chocolate greeting you at the end of a ski run on the slopes, to a specially planned dinner menu paired with the perfect bottle of wine, in the comfort of the expansive dining area inside your own villa, looking into the night skiers on the slopes.
Michael explains: "It sounds like a lot at first. But then guests do the math. They see all the perks that come with the stay, including the daily meals and private butlers and chef team that tends to their every need. This is when they realize that the prices are quite reasonable on a per-bedroom basis."
IT'S ALL ABOUT THE DETAILS
No detail is overlooked at HakuVillas. There's a made-to-order shuffle board and poker table in the Mancave, big jars of edible treats in strategic areas, and thermal blankets to cozy up with on snowy nights. And, yes, you can curate your favourite music in each room and living space at HakuVillas — and what a convenience this is, I realized. I could choose Frank Sinatra for a steak dinner in the dining room and Ariana Grande for a morning at the hot springs tub just before heading for the slopes.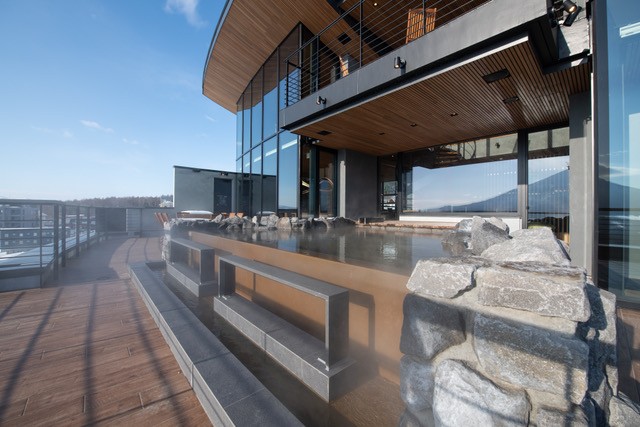 Pre-pandemic, for instance, one gentleman from Hong Kong booked the penthouse and the three smaller units for three weeks. Then he still needed more space so he booked a stand-alone home, Hakuchōzan, that H2 Groupleases for JPY 1.7 million yen (approximately US$17,000) per night. Incidentally, this fully serviced home set the standard for upmarket lodgings in Hokkaido. By all accounts he had a wonderful time and was planning to return. I'm guessing this will be one of his first destinations as soon as Japan reopens its borders.
---
---