The Park Hyatt Kyoto is a wonderful blend of modern and traditional. It's located in one of the loveliest neighborhoods of Kyoto, near the Kiyomizudera and the Yasaka Shrine. It is also at the doorstep of the old entertainment district of Gion, home to the geisha and maiko. There are not a few famous restaurants and tea houses in this area too. Because of this, it's a joy to walk around even late at night.
The hotel also has amazing provenance because of its relationship with the legendary Kyoyamato Restaurant of Kyoto. This is a traditional kaiseki restaurant that has been serving fine Japanese food since 1877. The current owners belong to the sixth generation of the original family.
This association with Kyoyamato has also provided many benefits to the Park Hyatt Kyoto. For one thing, the hotel has access to some of the best artisans of Kyoto, many of whom already have some relationship with the Kyoyamato.
THE BEST ARTISANS OF KYOTO
The Park Hyatt Kyoto uses these traditional Kyoto crafts throughout the hotel. For example, the Kyoto Bistro is the hotel's casual cafe with an entrance right along the Ninenzaka Street. It's known for comfort food which can be enjoyed in the restaurant or ordered as take-out.
This cafe uses tea cups and bowls called Asahiyaki. Asahiyaki dates back 400 years. It's currently produced at a pottery kiln in a city called Uji, which is near Kyoto.
WHERE TO FIND YOHEN TENMOKU TEA BOWLS IN KYOTO
The hotel also uses Tenmoku tea bowls. These are beautiful pottery with incandescent colors that change hues depending on the light reflected on it. The highest quality Tenmoku tea bowls are the Yohen Tenmoku, and Takeshi Furukawa is one of the rising potters in this field.
These much admired bowls have an 800-year history, and these have been created amidst much secrecy. Only the potters themselves know the exact formula for creating the beautiful glaze of the Yohen Tenmoku. However, it is common knowledge that Yohen Tenmoku bowls are made with natural soil rich in iron and then glazed with oxidized metals.
KANAYA COPPER CRAFTS IN KYOTO
Meanwhile, many of the copper items used by the Park Hyatt Kyoto have been created by Kanaya Gorosaburo XVI. Kanaya-san is heir to a long and revered tradition of copper making. His family has been involved in this craft for over 400 years.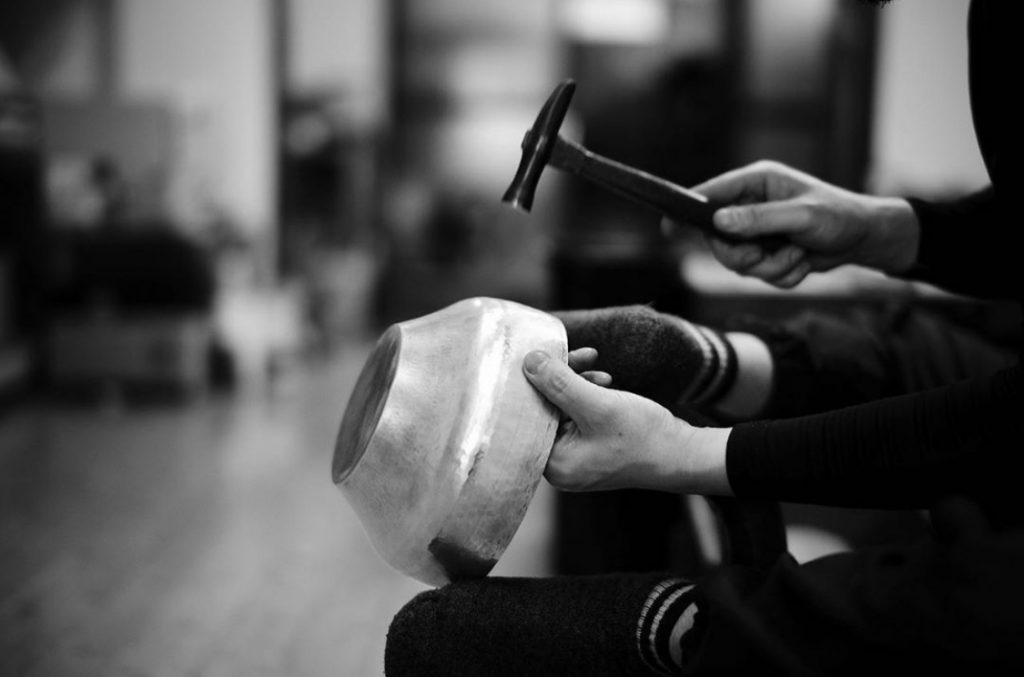 Kyoto is a conservative city that does not easily welcome newcomers. So most new hotels — especially foreign ones — may find it hard to become involved in its old traditions. However, because of its association with the Kyoyamato, the hotel enjoys the equivalent of a hotline to some of the best artisans of Kyoto.
Read more about the best hotels in Japan in Travelife Magazine.
Photos credit : Park Hyatt Kyoto