In the summer, Tokyo residents love visiting the famous gardens of Chinzanso. It's the perfect summer treat, to dine in one of the restaurants and then to take a walk in the gardens.
Chinzanso has many lovely restaurants. But summer is synonymous with the Mokushundo restaurant in the garden. This dining venue is well-known for its teppanyaki set courses and its kaiseki cuisine that is cooked in a beautiful antique iron kettle.
TEPPANYAKI AT MOKUSHUNDO
The teppanyaki course is especially popular because Mokushundo has private teppan tables for each group. Moreover, each cooking slab is very special. The slabs are lava stones that have been brought down from Mount Fuji. They are supposed to impart a special flavor and energy to the food.
STAYCATION AT CHINZANSO
It was at the height of the COVID-19 pandemic in Japan, when we checked into Chinzanso for a staycation. And as this massive hotel complex is so comfortable, we decided to simply stay in and try out all the restaurants.
Interestingly, it seems that many Tokyo residents had similar plans. Arriving at the hotel, we were quite surprised to find so many people waiting to check-in in spite of the pandemic. Or perhaps, they're opting for a staycation at Chinzanso because it's a safe hotel to stay in during the pandemic.
---
READ ABOUT THE BEST NEW HOTEL IN SPAIN
---
COVID-19 SAFETY PROTOCOLS
The hotel follows a strict protocol for ensuring that guests and hotel staff are kept as safe as possible. This includes temperature checks and mandatory masks at the hotel entrance and at every restaurant. So once you're inside Chinzanso, you feel safe and relaxed.
Mokushundo too was full of diners. Every table was occupied and second seatings were being arranged. We had a 6 PM reservation and so many families were already in the middle of their dinners when we walked in. When we walked out two hours later, there were still groups of diners waiting outside in the garden for their tables.
FAVORITE JAPANESE RESTAURANT
Mokushundo is a great favorite of many Tokyo families. In fact, this traditional Japanese restaurant has been operating for such a long time that generations of Japanese families have grown up coming here for weekend meals and celebrations.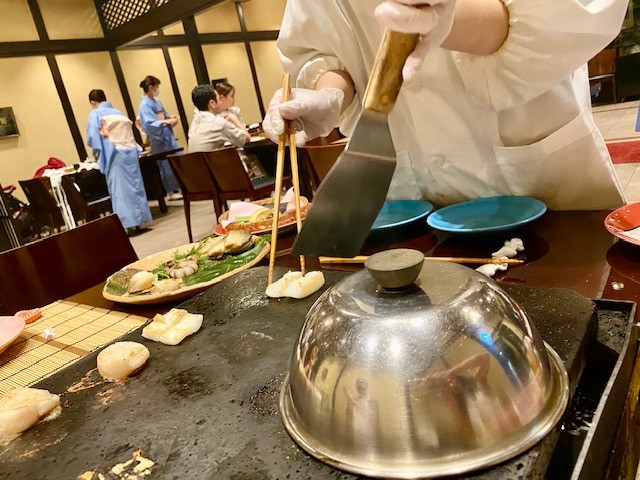 As the restaurant is famous for its stone-grilled kaiseki dinners, we ordered the seafood course. A lady in a kimono brought most of the ingredients for the meal to the table. Then she proceeded to cook every course in front of us. So practically every dish was prepared in front of us and we enjoyed these piping hot.
FOOD INSPIRED BY SUMMER
The appetizers were works of art. Every tray arrived showing off a balance of colors and design inspired by summer. The lady first brought the cold appetizers. Then she proceeded to prepare the hot dishes as we ate.
The piece de resistance was a half lobster, still in its shell, cooked right at the table. Then came the traditional Japanese bowl of rice accompanied by pickles and miso soup.
However, this time there was a nice twist. My rice bowl had flecks of oxtail and colorful crunchy decoration. Just as I was about to it eat as is, the lady in the kimono cautioned: "Please pour some of the tea from this teapot into the rice before eating."
Japanese call this mixture of rice and tea "o-chazuke." It's incredibly good.
TWO DESSERTS IN A ROW
We had ice cream for dessert. A traditional Japanese restaurant usually serves fresh fruits or a small sweet at the end of the meal. We were also given this option, but we decided to have the home-made ice cream of Chinzanso instead.
Then came a second dessert after dinner. We walked back to our hotel through the gardens. Instead of taking the normal walking route, we climbed up a hill and were rewarded with the view of a most beautiful pagoda, all lit up amidst the dramatic darkness of the gardens.
Read more about the best hotels and resorts in Japan in Travelife Magazine.