At 630 AM on our first morning at Bushman's Kloof, our ranger Martin was waiting at the gate of our villa, the beautiful Cederberg House, with a big smile and two yoga mats in hand.
We'd created a full itinerary for our stay at this wilderness retreat, famous for its impeccably planned experiences and flawless service. So our days were booked from early morning to midnight with the kind of activities that Hollywood movies are made of and that most people only dream about.
In this sense, Martin was part of the seamless scenery at this multi-awarded retreat, considered among the best in South Africa. He always met us on time with a cheerful countenance, unfazed by the Herculean task of executing at least three or four events each day with no-fail precision as we simply basked in the good energy of the Cederberg Mountains and eagerly awaited the next surprise.
YOGA IN AFRICA
"Good morning!" He boomed as we trudged out still half asleep. "Are you ready for yoga?"
Eager to jumpstart our wellness journey, we'd signed up for a series of private yoga and meditation sessions. That day, Martin drove us to the most perfect spot possible. There, on an open-air landing with some shade and a 180 degree view of part of the Cederberg mountain range, we were to practice yoga.
TIBETAN SINGING BOWLS
Here yoga instructor Stephanie guided us through the motions. Then at my request she even performed a quick therapy treatment with her Tibetan singing bowls as I lay on my back. I remember marvelling at the clear blue skies of Africa and the surreal feeling of my morning so far.
A cool wind blew, trees shuddered with a comforting sound, and chirping birds flew overhead as I advanced towards inner tranquility in 90 minutes. By then I was ready to make peace with myself and with anything that breathed.
When my personal reverie was over, fresh juices and eggs cooked-to-order awaited me. The chefs had arranged breakfast in a garden next to a shallow river bed where monkeys played.
The menu is simply semantics, though, because the chefs at Bushman's Kloof, a member of the Red Carnation Hotels, are actually willing to create anything guests fancy. Everything here is done on a best effort basis simply because it's the kind of place that seriously likes to make its guests happy.
ABOUT CEDERBERG HOUSE
After breakfast, I had some time to read a book back at Cederberg House before our scheduled massage. Our villa, set amidst spacious gardens within a fenced enclosure, was straight out of a design magazine.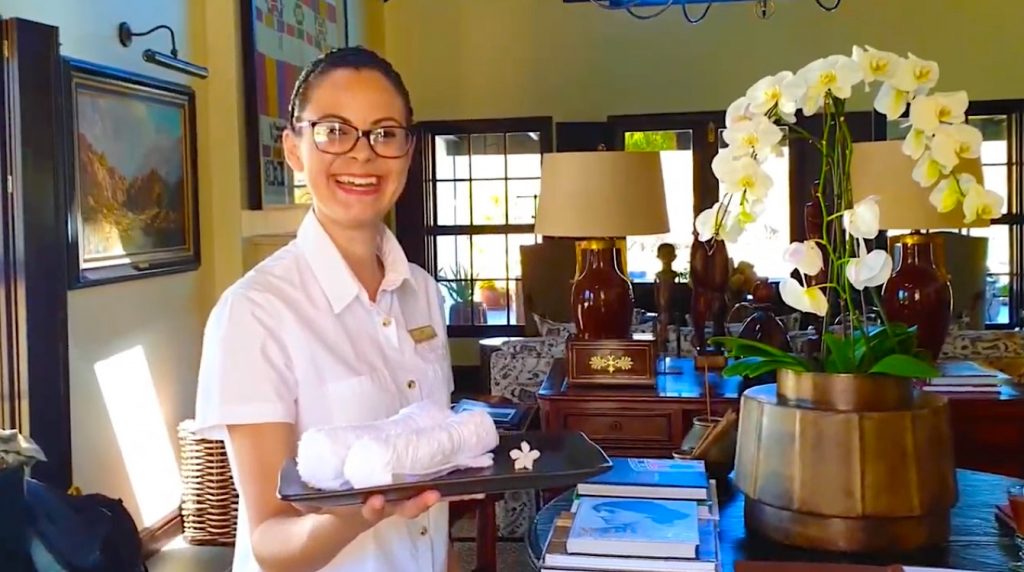 Decorated in the classic country style with masses of flowers everywhere, it was elegant and inviting, with decorative items and artworks chosen by the owner herself.
The personal touches of Beatrice Tollman, the self-made travel magnate behind Red Carnation Hotels and The Travel Corporation. She reportedly selects presents for every employee in her vast business empire herself at Christmas, are also evident elsewhere on the estate. These include items on the lunch menu, where her favourite lemon pie is offered for dessert.
Because it was so comfortable, Cederberg House was difficult to leave even for a moment. We loved the thoughtfully stacked bar and the sketch books and paintboxes in the bedrooms. I especially liked the most interesting books arranged artfully on every table.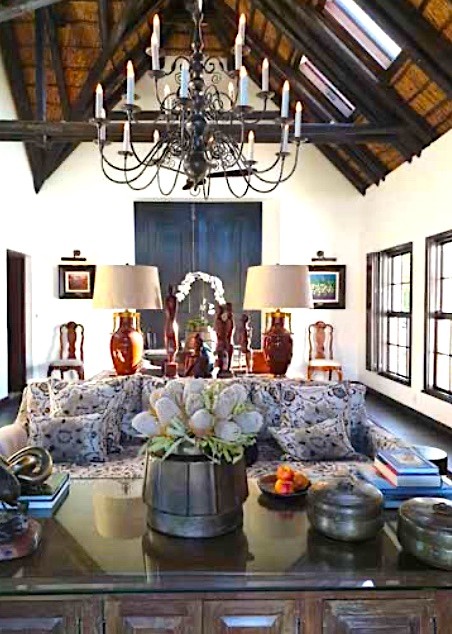 One or two always caught my eye and I instantly felt like sitting down and reading it. I fact, I'd picked up a book on South African writers as soon as I entered. This book almost never left my side.
THE SPA OF BUSHMAN'S KLOOF
Temping as it was to just stay in and enjoy our beautiful villa, however, the spa beckoned. It was recently chosen the best spa in Africa and the Indian Ocean. So how could I miss this?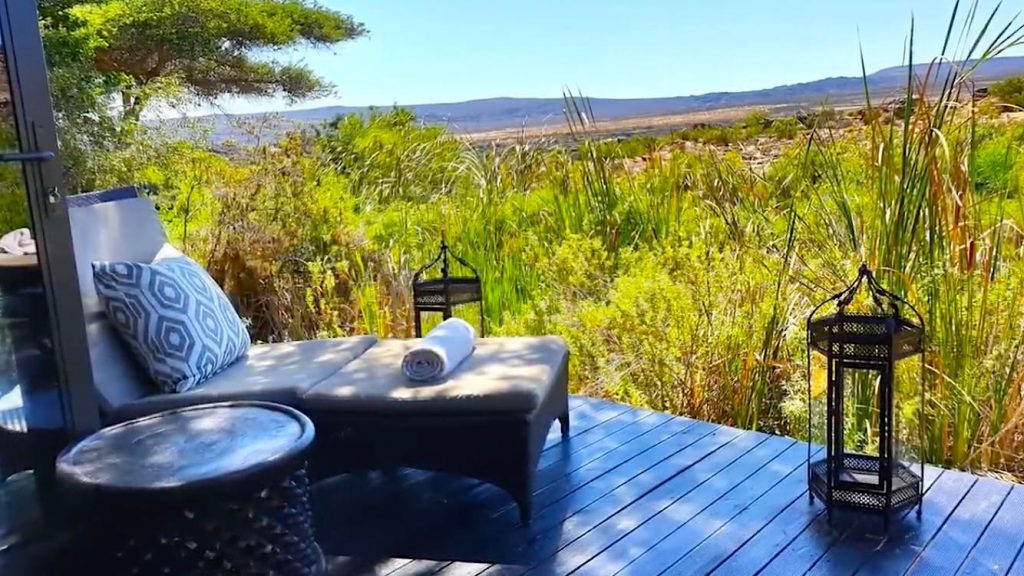 We booked the Bushman's Kloof signature massage and requested for these to be done in the spa gazebo. This treatment room opened up to an old river bed of wild grass.
In this pretty cottage, two cheerful therapists kneaded the knots out of our backs. Meanwhile Martin arranged a picnic lunch in a cave ten minutes away by jeep. By the time our treatment was over, it was noon and he was back at the spa. Then he drove us to a lagoon on the game reserve where he'd already set a canoe and two paddle boards on the water.
PADDLING A CANOE IN THE CEDERBERG MOUNTAINS
When he stopped by the shore, we'd looked at him inquiringly as there was no sign of food and it was 1230 PM. "I thought you guys might want to go paddling on our lagoon first," he said. "If you follow the route to the right, you'll find lunch waiting for you somewhere along the way."
I wasn't convinced this was a good plan but I got in anyway and we paddled along with Martin waving us off encouragingly from the shore. Paddling was surprisingly enjoyable and easy. It was especially so in this lagoon without waves. Then just as we entered a narrow canal and I was preparing myself for an hour of effort with the boat, we saw a beautiful picnic spread on a ledge.
---
READ ABOUT THE BEST NEW HOTEL IN SPAIN
---
PICNIC IN AFRICA
A large mat had been laid out with giant pillows. Meanwhile, even from the water I espied a silver bucket brimming with champagne, wines and juices. Upon alighting and making our way up to the spot, we were treated to the wonderful spectacle of a quintessential South African picnic hamper. Everything was all laid out, ready for photographs.
We had roast beef sandwiches, boiled eggs, salads and fruits, and a cheese
plate. We even had a basket of assorted biltong. Not forgetting my sweet tooth, Martin had even included little pudding pots for dessert.
---
WATCH OUR VIDEO ON WELLNESS AT BUSHMAN'S KLOOF
---
It's not everyday one has such a lovely picnic in the great outdoors. So this one truly delighted me. In fact, our entire stay was full of such wondrous experiences. Afterwards, I realized why so many people undertake the trek from all over the world to Bushman's Kloof. You're taken out of your own world and suddenly you find yourself in a place where nothing else really matters but your bliss.
Read more about the best safari lodges in the world in Travelife Magazine.