Since life has more or less returned to normal in Japan, I've decided to make the rounds of Japan's best hotels and ryokan to see what life is like for Japanese hoteliers amidst the pandemic.
My first stop in this three-month journey is the Asaba Ryokan, a 500-year-old ryokan in the quiet hot springs town of Shuzenji in Shizuoka Prefecture. This Relais & Chateaux property is considered by many to be the best in the Kanto region of Japan, if not in the entire Japan.
Among the best traditional Japanese ryokan
This also happens to be one of my favorite ryokan. It has kept the traditional aspects of Japanese hospitality while also welcoming the modern. Traditional Japanese ryokan are usually lavish with food but short on space and light. So most ryokan are all about depth within narrow corridors and beauty amidst relative darkness.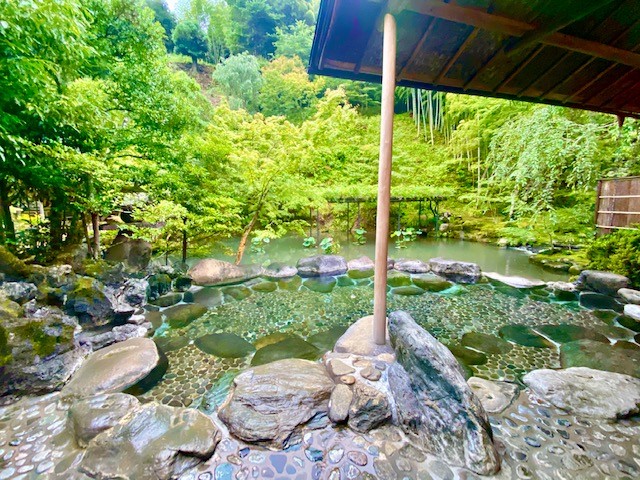 In this sense, Asaba is a cut above the rest and perhaps this is why I like it so. Its 500 year history ensures that there is no question of its pedigree as one of the finest ryokan in Japan. The interiors also guarantee a spotless reputation. A lake weaves its way around the rooms and there is an ancient Noh theater on the other side.
Noh performance in Asaba Ryokan
In October, famous Japanese Noh performers arrive at Asaba to perform on this breathtakingly beautiful stage. Many culture enthusiasts consider watching a Noh performance at Asaba as one of the best experiences of Japanese culture. And, yes, we've already booked a room for this year's Noh performance. They're highly in demand months in advance.
The works of Lee Yufan
At the same time, Asaba is bright and modern so you immediately feel cheerful upon entering. The ryokan owner too is a great connoisseur of contemporary art, so there is a very tasteful juxtaposition of the best of traditional architecture with the best of modern art.
Moreover, the ryokan has a great collection of the artworks of Lee Yufan. In fact, a black and white Lee Yufan mural welcomes you at the entrance, along with seasonal Japanese decor.
Life in Japan after the pandemic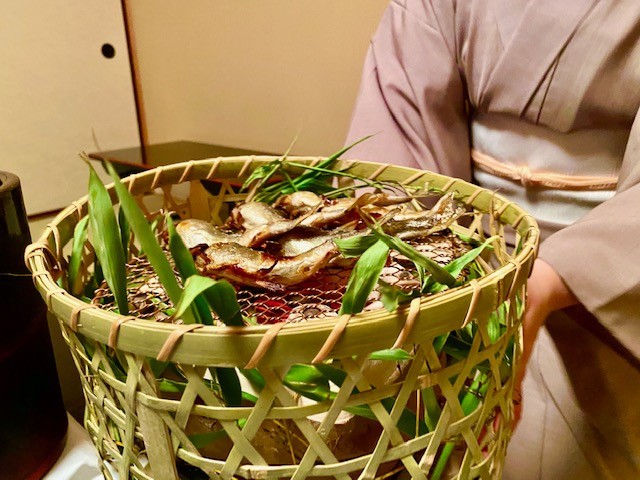 On this visit, I was curious to see how Asaba would handle reopening and operations amidst the pandemic situation. Well, the staff are wearing masks and there are hand sanitiser bottles placed strategically around the property. Otherwise, it's like COVID-19 never happened here. It's all serenity and peace. I feel like I left my pandemic angst by the entrance and everything was back to normal in the world again.
The food and the service are the same. Regulars at Asaba know very well that this ryokan almost never changes its seasonal menu. This may sound strange to some, but it actually gives a sense of continuity. The world may turn upside down but dinner at Asaba is still the same. They serve the river fish ayu in the summer, a special chicken stew in the winter, and clams with rice in the spring. Meanwhile, breakfast always includes a Japanese-style omelette.
So it's very apt that I start my journey around Japan with this ryokan that is both old and new, but it is also one that has not changed. And when I got into the famous outdoor pool of Asaba on my first afternoon here, I actually had to pinch myself. The virus is very much still around, but in Asaba, it sure felt like the pandemic was over.
---
Christine Cunanan, Travelife Magazine publisher, is visiting some of the best hotels in Japan over the next three months. She is also opening a luxury villa/ boutique hotel/ private villa rental just 35 minutes from Granada in the beautiful Lecrin Valley. Follow her adventures in Travelife Magazine.