Everyone is always looking for something new and interesting to do in Manila. With New Year's resolutions for health and wellness in mind, my friends and I decided to start 2020 with a girls' spa day at Marina Bay Spa.
We wanted to eat, relax, enjoy the sauna and then have massage treatments and facials. In other words, we wanted a mini vacation after the hectic Christmas season without having to leave Manila.
ABOUT THE MARINA BAY SPA AND LIFESTYLE CLUB
So we booked an afternoon at the Marina Bay Spa and Lifestyle Club right along Manila Bay. My friend Rachel had just signed up as a member so she was eager to show off her new club with an impressive wellness area and a great rooftop for chilling out.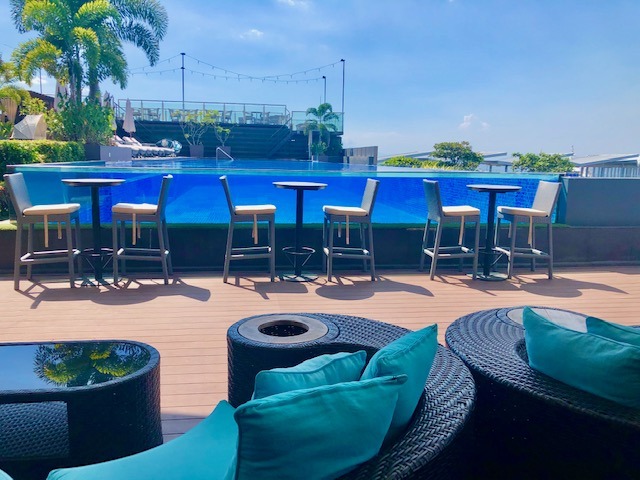 "This club has got great facilities," she said. "And members get to use all the wellness areas like the sauna and the steam room whenever they wish. I love the ganban'yoku. It's great just before a massage."
WHAT'S A GANBAN'YOKU?
I asked: "What's a ganban'yoku?"
I'd never heard of this before. It turns out that the ganban'yoku of Marina Bay Spa and Lifestyle Club is a beautiful hot stone spa. Here, members can lie down and warm up before a treatment. They can also relax in this unique space between sessions in the sauna or the baths.
---
RELATED CONTENT : Amazing wellness treatments in Hungary
---
WHERE TO EAT BEFORE A MASSAGE
When we arrived at the club, Rachel said: "Let's have something to eat first before heading to the wellness zone."
"There's food here?" I asked. Rachel nodded and said, "There's a buffet everyday and it's really good. I like to have a light lunch here before starting my treatments."
THE BENEFITS OF CONTRAST THERAPY
After lunch, we all headed to the hot and cold pools to relax. I myself am a great believer in contrast therapy. This kind of therapy involves bathing alternately in hot and cold pools.
I don't know any spa in Manila that offers a proper facility for this. In fact, I've long been looking for a spa with hot and cold pools in Manila, but I'd never found one. So of course I was overjoyed to find hot and cold pools at the Marina Bay Spa and Lifestyle Club. I was very impressed with the club's Swedish sauna too.
Then I went on to the ganban'yoku. I just had to try this hot stone spa that Rachel had been raving about. I was practically asleep here when my therapist, Annalyn, opened the door to tell me that it was time for my treatment.
HEALTH BENEFITS OF BODY MASSAGE AND REFLEXOLOGY TREATMENTS
I signed up for the sports massage, which is perfect for sore muscles and aching bones. I also for 60 minutes of foot reflexology. I had the sports massage in a private treatment cabin, and then I transferred to a room with very comfortable chairs for my foot reflexology treatment.
Everything was so relaxing. I finally fell asleep during my foot reflexology treatment, feeling so happy with such a wonderful "Me Day." So when Rachel came over to finally wake me up as it was time to go home, I didn't get up. The chair was like a cradle and I was happy. So I said: "Leave me please. I want to stay here."
Rachel simply smiled and said: "I know the feeling. Join the club."
Read more about wellness and beauty treatments in the Philippines in Travelife Magazine.