Tao Li at New World Millennium Hong Kong Hotel presents a delicious range of Chinese New Year specialties and festive dim sum to celebrate the Year of the Rat.
The classic Lo Hei for Chinese New Year
Chinese Head Chef So Kei Pak has created a series of auspicious dishes symbolizing great fortune and good health. 
The classic Lo Hei is prepared with sliced salmon sashimi, shredded abalone and a variety of condiments such as pickled and shredded ginger, pickled shallots and coriander. It is a tradition for diners to toss the ingredients together as high as possible to bring prosperity for the year ahead. 
Lunar Year Treats to Try at Tao Li
Braised Bird's Nest with Crab Coral, Crabmeat and Scallops
Deep-Fried Fillet of Whole East Spotted Garoupa with Pine Nuts and Sweet and Sour Sauce
Sautéed Egg White with Shrimp Roe, Crab Roe, Scallops, Shrimps and Crab Coral
Stewed Sea Moss with Whole Conpoy and Garlic
Sea Moss Soup with Dried Oysters, Conpoy, Fish Maw, Black Mushrooms, Lotus Roots, Pig's Knuckle and Pig's Tongue
Sautéed Abalone with Elm Fungus, Prawns, Scallops, Kales and Homemade XO Chilli Sauce
---
THE BEST ADVICE FOR NEW YEAR 2020
---
Chinese New Year Dimsum
Chef So also presents a lavish selection of festive dimsum.  Among the highlights are steamed chicken bun with whole abalone and steamed pork dumplings with whole abalone.
The chef also plans to prepare sea moss and pork liver. He is also offering steamed shrimp dumplings with asparagus, bird's nest and scallop in supreme soup. For dessert, he recommends the pan-fried coconut puddings with osmanthus.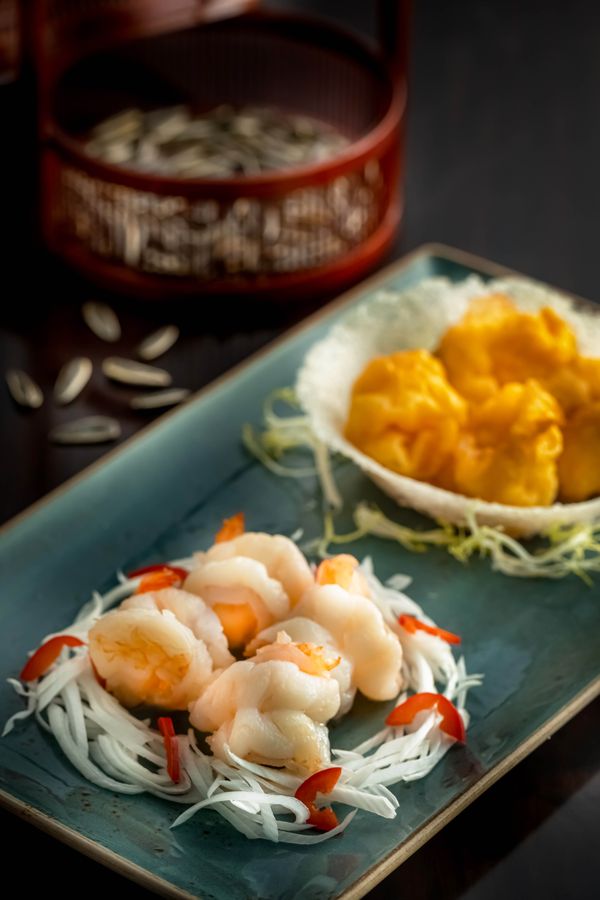 Chinese New Year at Tao Li
The specialties are available from January 25 to February 8, 2020, the first 15 days of the Chinese New Year. The dim sum menu is available for lunch from January 25-31, 2020, the first seven days of the Chinese New Year.
Overlooking the Victoria Harbour, Tao Li offers an elegant selection of Cantonese fare and dim sum that combine traditional flavors with originality.  With 180 seats and five private rooms, the restaurant can transform to a function room for private and corporate gatherings.
Read more about the best Chinese restaurants in Hong Kong in Travelife Magazine.