COVID-19 has prompted many investors to consider other safe haven options. These include a citizenship by investment opportunity for those who purchase a share in the new Six Senses resort in Grenada.
Grenada is known as the "Isle of Spice." It is one of the most magnificent islands in the West Indies. Unspoiled and exotic, it astounds visitors with its wildly jagged mountain peaks, spice plantations, and lush rainforests. The historic capital city of St. George has vibrant markets and the most beautiful harbor in the Caribbean.
Investing in Grenada
Grenada's coastline is accented by idyllic white and golden sand beaches dotted with palm trees, and the delicate aroma of the island's spices. Grenada offers gorgeous scenery and an authentic Caribbean lifestyle with a rich culture, plenty of fun, and a friendly environment.
Currently, one of the best investment opportunities in Grenada is the exclusive Six Senses La Sagesse Grenada project. Six Senses is an award-winning collection of luxury resorts that focuses on building sublime experiences without diminishing the natural world.
---
READ MORE : THE MOST ROMANTIC NEW HOTEL IN ANDALUCIA
---
About Six Senses La Sagesse Beach in Grenada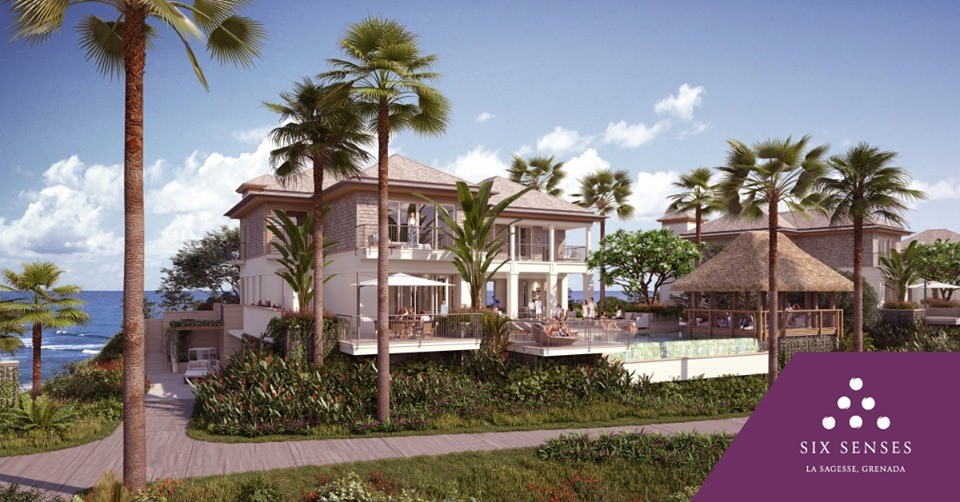 The 5-star luxury retreat is set on Grenada's stunning and serene La Sagesse Beach. This is only 15 minutes from Maurice Bishop International Airport. Amidst the lush greenery, the resort offers a tropical island sanctuary for guests to relax and rejuvenate. The swaying palm trees and ocean skyline provide an artistic blend to the picturesque beachfront. These are all accessible through Six Senses residences.
Six Senses La Sagesse Grenada is the result of a partnership between Range Developments and the Harvey Law Group (HLG). Range Developments is an award-winning developer of ultra-luxury resorts in the Caribbean. Meanwhile, HLG is a leading multinational business and immigration law firm as well as the strategic partner with exclusivity for Southeast Asia. The Government of Grenada officially approved the project on March 15, 2019.
How to get Grenada citizenship
Investors in the project can receive citizenship from the government of Grenada. Grenada launched a Citizenship-by-Investment (CBI) program linked to a lifetime Grenadian citizenship. Grenada is one of the world's top passports since it includes visa-free access to China and the European Union.
Moreover, the citizens of Grenada are the only ones in the Caribbean allowed to obtain a U.S. E-2 Visa. Moreover, investors are free from personal, income, and worldwide taxation. Furthermore, applicants do not need to visit or reside in Grenada during or after the passport application process.
How to invest in the Six Senses La Sagesse
Investing in a share of the exclusive Six Senses La Sagesse is currently priced at USD 220,000. This allows the investor to take advantage of a seven-night annual complimentary stay at the resort, along with the investment in this new hospitality brand with a unique concept. The investment will entitle the investor and their families to apply for lifetime citizenship and passports from Grenada. Furthermore, the passport will be passable through generations.
Range Developments is a leading developer specializing in luxury hotel resorts in the Eastern Caribbean. Its portfolio includes the award-winning Park Hyatt St. Kitts, The Cabrits Resort and Spa Kempinski Dominica, and Six Senses La Sagesse.
About Six Senses
Six Senses Hotels Resorts Spas operates two hotels, 15 resorts and 31 spas in 21 countries. These are under the brand names Six Senses, Evason and Six Senses Spas. The company expects its portfolio to triple over the next five years. They are planning resort, hotel and spa openings in Austria, Bhutan, Brazil, Cambodia, China, India, Indonesia, Israel, Spain, Switzerland, Taiwan, Thailand and the United States.
Six Senses resorts are located in places of incredible natural beauty. They are known for their distinctive and diverse design personalities. Each property is supported by a leadership commitment to community, sustainability, wellness and design.
Read more about investment opportunities in luxury hotels in Travelife Magazine.