The award-winning travel website Host Unusual has just released its picks for some of the most interesting places to stay in 2022. The pandemic may still be keeping many borders closed, but it's certainly never too early to start planning for holidays again.
Here are our favorites from the list.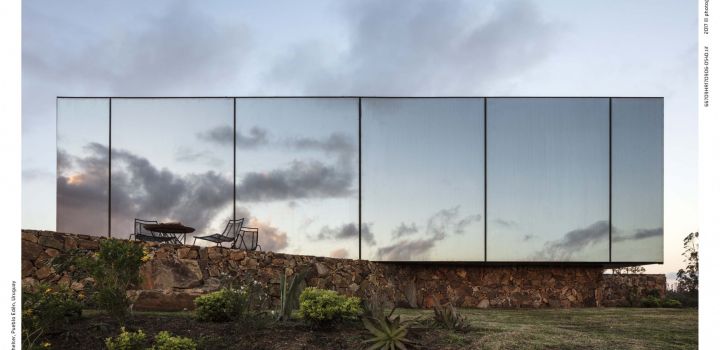 An architect-designed hotel and winery sustainably blended within a vast stretch of valley grassland in Uruguay.
Designed by renowned South American architects MAPA, Sacromonte Landscape Hotel is a haven for lovers of exceptional wine, exceptional comfort, and exceptional scenery alike.
Beautifully secluded within a 250-acre stretch of vineyard-dotted valley and wild mountain range in eastern Uruguay's Maldonado region, you'll discover individually-spaced, sustainable hotel cabins (4 ready now, with 8 more by June 2019), along with a dedicated winery (opening February 2019) and a farm-to-table restaurant.
The sleek cabin features dark stone floors, oak-panelled walls and simple, modern furnishings throughout. The kitchen and bathroom are tucked at the back, while your cosy bed is set right at the front of the cabin, meaning you'll wake up feeling as though you're right in the midst of that awe-inspiring landscape.
A grand, authentic hacienda with luxury suites, a swimming pool, and a designer courtyard inspired by the Alhambra, nestled amongst private flower gardens just 35 minutes from Granada.
Available as a boutique hotel, or a fully serviced villa for up to 14 guests, La Esperanza is a breathtakingly beautiful, Spanish Mission-style retreat that promises to spirit you blissfully away from hectic life back home.
Perfectly positioned in a microclimate zone just 35 minutes from Granada, the hacienda (or estate) drips with glamour, nestled amongst 11 acres of sweet-scented flower gardens, pine and organic fruit trees to provide a sense of your own private, secluded paradise.
Indeed, you may find it extremely difficult to leave, particularly when surrounded by indulgent delights that include a panoramic swimming pool and hot tub, a yoga and meditation terrace, and tournament-grade tennis courts.
Meanwhile, you'll have six en-suite bedrooms to choose from; two opulent suites and four sumptuous double or twin rooms. Each has been designed in Andalusian style, with traditional archways and Moorish tiles complementing vaulted wooden ceilings. Not only do they feature private patios that overlook the Rio Albunuelos Valley, but access to that beautiful courtyard.
Spirit yourselves away to a private Greek island that's teeming with diverse nature, a plunge pool fed by the Ionian Sea, and a restored fishing boat to rest your heads.
Characterful and mesmerising, Nissos Sofiaia is an unspoilt 43-acre island in the Ionian Sea that's part of the Echinades islands that are protected for their rich and diverse forms of nature.
Here, your unique accommodation will be waiting for you. It's an elegantly restored Samian fishing boat (known as a 'kaiki') equipped with everything you'll need for a true paradise-like escape from life's hustle and bustle.
Step on board to discover a relaxed open-plan space that features a comfy bed dressed in fresh white linen, and a cosy seating area positioned over glass floors that showcase the kaiki's former engine bay. There's an en-suite bathroom with running water, a compost loo, and a gorgeous outdoor shower.
Every day, you will be provided with two 'provision crates'; one bursting with fresh fruit and vegetables, and a second packed with delicious holiday essentials – such handmade preserves, pasta, free-range eggs, freshly-baked bread, and of course, aromatic coffee!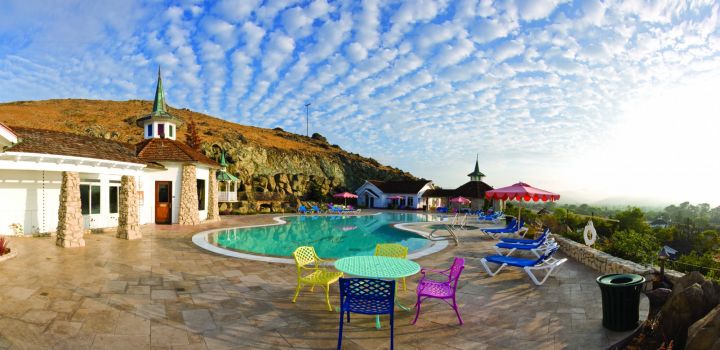 A vividly kitsch, grandly one-of-a-kind resort just off US Route 101, where the good times roll and no two rooms are the same.
Opened in 1958 by Alex and Phyllis Madonna – an architect and an interior designer, no less – Madonna Inn sits perfectly in between Los Angeles and San Francisco, just off Route 101.
From the moment you feast your eyes upon the gigantic, hot-pink 'Madonna Inn' sign, set against that coastal mountain landscape, you know you're in for something special.
Alex and Phyllis Madonna had just one mission: to "make more people happy". As you enter the resort, you'll see just how they've succeeded. Stretching out over 1,000 acres, the Madonna estate is vibrantly striking, with pops of that trademark hot-pink everywhere you look. Meanwhile, the four-storey inn's jaw-dropping architecture is created from natural rock formations, boulders, and intricate hand carvings (you can even spot some authentic dinosaur fossils in the walls).
A jaw-dropping Costa Rican jungle dome, created by local artists and secluded amongst lush tropical greenery, with visiting monkeys.
Perfectly positioned in Montezuma, an exquisite, laid-back surf town on Costa Rica's stunning Nicoya Peninsula, you'll be surrounded by a vast tropical garden with an array of visitors that range from colourful hummingbirds, to white-faced monkeys.
The cheerful green lodge itself took months of love, care, and hard work — and 1200 aircrete blocks for the three creatively decorated domes connected by elegant arches. The bedroom dome is equipped with a downy queen bed and large round windows to help you greet the sun rising over the trees. Meanwhile, the unique-designed bathroom dome features a piping hot shower, a stack of fluffy towels, and a washing machine – handy after a day at the beach.
Last, the central living-and-dining dome is luxuriously spacious, and an ideal spot for morning meditation with the gentle sounds of the jungle in the background.
A gleaming, ethereal 'astro-pod' that allows you to enjoy life's blissful basics at their best, secluded in a sheltered glade on a private Welsh mountain estate.
Blissfully secluded on the vast Red Kite Estate in Powys, Moon Conker is an 'astro-pod' retreat that offers a gentle feeling of remoteness in nature that's reminiscent of the writer Henry David Thoreau's Walden, a classic reflection on the simple life.
Meanwhile, your unique, other-worldly orb is completely off grid, constructed with cutting-edge technology and expertise honed by creator Jag's experience working with the likes of Bentley and Rolls Royce.
You'll have an exclusive pentagon-shaped dining pod that's made for romantic meals, gainfully equipped with a kitchenette that features a gas stove, cooking and dining equipment – oh, and a pizza oven with supplies to make your own fresh dough.
A beautifully restored vintage bus with a private pool, parked on a welcoming family farm, and surrounded by fruit and olive trees in the heart of rural Portugal.
From the moment you step aboard Retro Camping Bus, you'll forget all about life's hustle and bustle back home. Blissfully secluded on a family farm in the central Portuguese village of Arrabal, surrounded by colourful plants and whispering fruit and olive trees, you'll feel as though time has come to a gentle standstill.
Better still, friendly owner Ricardo has ensured the 1960s double-decker bus is rich in every home comfort you could ask for, to sleep up to four guests in natural luxury.
There is also plenty of clever attention to detail that stays true to the bus's former life on the road, such as bus ticket accessories, framed 'before' pictures, and glowing headlamps that light your way in the dusk.
A wow-factor Australian icon, architecturally renovated and suspended 40 meters above Fairhaven Beach for a view-filled holiday quite unlike any other.
Originally built by Frank Dixon back in 1978, The Pole House is one of the most photographed places on Australia's Great Ocean Road – and with good reason!
Dramatically suspended 40 meters above Fairhaven Beach, and newly renovated by a master architect, the views from this iconic retreat are truly exceptional… you'll feel as though you're living amongst the sea and sky themselves. There's also a gorgeous bathroom pod clad in burnt ash panels, and a fireplace suspended in front of a floor-to-ceiling window, that looks for all the world as though it's burning brightly out at sea.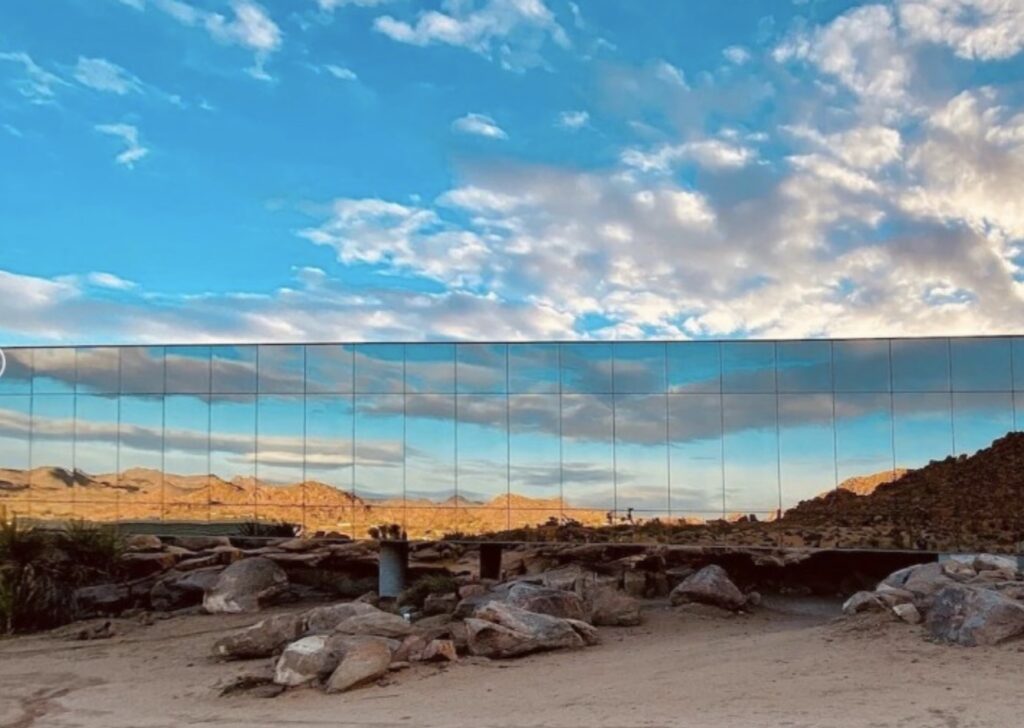 A vast, eco-luxe mirrored skyscraper with a spectacular 100ft indoor swimming pool (and its very own 4000ft mountain!) that showcases incredible Joshua Tree desert views from every room.
Sharing a border with the Joshua Tree National Park, Invisible House is superbly nestled at the foot of a hill, amongst 90 private acres of impossibly scenic Californian High Desert land. It's only fitting, then, that this flat 22-storey skyscraper is created from mirrored glass that melts into the spectacular landscape, allowing you to connect with desert nature in the most jaw-dropping way imaginable.
Crafted using the most advanced materials and technologies, Invisible House is not only visually mesmerising and thoroughly cutting-edge, but eco-friendly, with a carbon footprint of near-zero. Designed by the film producer Chris Hanley, and Frank Gehry-collaborator Tomas Osinski, the vast, minimalist retreat has been featured in a wealth of prominent design and lifestyle publications.
For more properties on the hot list of Host Unusual for 2022, please click here.